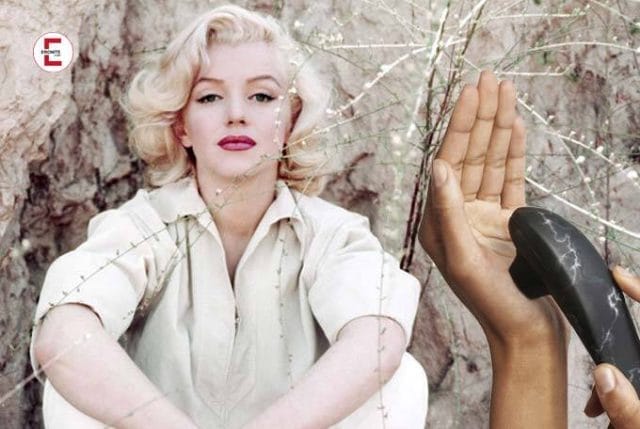 Marilyn Monroe as an icon
The world's leading premium pleasure brand Womanizer joins forces with the estate of arguably the most renowned Hollywood icon of all time: Marilyn Monroe. With the Special Edition of the Womanizer Classic 2 and the accompanying "I.Am.Original" campaign, Womanizer not only wants to celebrate Monroe's legacy and achievements, but also send a clear message and draw attention to today's societal ills: objectification and sexualization of women.
---
Eronite empfiehlt dir diese XXX Videos, Livecams & privaten Kontakte:
---
A sextoy by women for women
Womanizer's mission is to provide education around female empowerment and the de-tabooing of female sexuality. A recent Pleasure Brand survey found that nearly half of women worldwide (49.4 percent) feel inadequately and misrepresented by media, which still paints an unrealistic picture of sex, sexual desire and sexuality. (1) Constant comparison with supposedly perfect people on social networks also increases dissatisfaction with one's own body, as a study from 2021 shows. (2)
These findings reveal the abuses in the sexualization of women that are still prevalent today. Preceding is an icon that is representative of exactly that. "The campaign and products are a tribute to a woman who is still famous today. A woman who was far too often underestimated, who was in many ways ahead of her time and rebelled against social conventions. A woman we would call a feminist and thought leader today. A woman who has been sexualized. A woman who lived through hard times. A woman who didn't let it get her down," explains Johanna Rief, Head of Sexual Empowerment at Womanizer. "For us and many people around the world, Marilyn Monroe remains an important role model for empowerment and should be celebrated as such. We are very honored and excited about this partnership."
Perfect embodiment of positive and feminist essence
The campaign critiques a societal narrative that controls and manipulates women, their appearance, and their sexuality in almost every aspect of life. The campaign additionally focuses on an important and positive message. She wants to call on women to break free from expectations, to reclaim and celebrate their own sexuality. Inspiration for the title "I.Am.Original" offers the fearless legacy of Marilyn Monroe: the embodiment of positive and feminist essence that remains an inspiration for women around the world to break common stereotypes, be their true selves and define their own sexuality.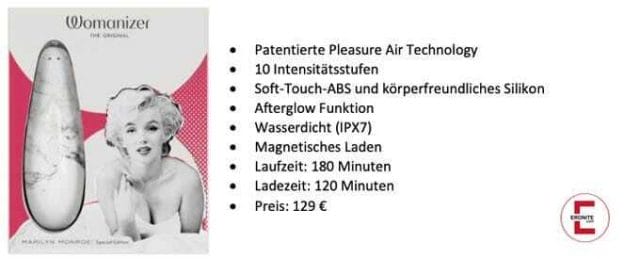 "We are very excited to be working with Womanizer and for this exclusive launch," said Dana Carpenter, EVP, Entertainment at Authentic Brands Group (ABG). "Marilyn is a compelling example of a strong woman who went her own way long before Hollywood accepted it. Today, she serves as a role model for women who celebrate their bodies and are comfortable being who they are."
The Womanizer x Marilyn Monroe Special Edition is available in four exciting new colors: White Marble, Black Marble, Mint and Vivid Red and will be available from September 1 for 129 euros.
About Marilyn Monroe
Marilyn Monroe is one of the most influential pop culture icons of all time. A true pioneer, Monroe blazed her own trail by maintaining her individuality and pursuing her passions at a time when there were few avenues for women.
Her pioneering spirit, independence and confidence, and unparalleled star power continue to inspire modern generations and transcend cultures and backgrounds. Partnerships with luxury and mass consumer brands and an extensive merchandising program underpin her status as a global icon.
Feminist pioneer
In 1954, Marilyn started her own studio – a major accomplishment for a woman in the 1950s. For this, she had to terminate her contract with 20th Century Fox. With the support of her friend and photographer Milton Greene, she founded Marilyn Monroe Productions, becoming the first woman since Mary Pickford to start her own production company. This gave her story approval, director approval and complete creative control at a time when the studios had all the power. In 1955, Fox finally dropped all the lawsuits.
A feminist muse ahead of her time
The American pioneer of feminism, Gloria Steinem, published a feminist analysis of Monroe's life in 1988 in the biography "Marilyn: Norma Jeane." In the book, Steinem portrays the woman behind the myth and the forces in America that made her the icon she is remembered as today.
"She never called herself a feminist, but the term was not widely used in her lifetime, and the movement did not emerge until several years after her death." – The Guardian, 2012
Equality in the entertainment industry
Marilyn fought for gender equality in an industry dominated by men. She complained to 20th Century Fox that she was not paid the same as her co-star Jane Russell in the film Gentlemen Prefer Blondes.
Supporter of the civil rights movement
Marilyn Monroe fought against oppression and advocated for racial equality, especially when it came to the famous jazz singer Ella Fitzgerald. The height of Monroe's popularity coincided with the U.S. civil rights movement.
#TimesUp
Marilyn Monroe spoke out about sexual harassment by powerful men in the industry long before the #MeToo and #TimesUp movements
---
(1) The representative survey was conducted in May 2022 in collaboration with Lucid. 22,315 participants from 15 countries (Australia, Germany, France, Great Britain, Hong Kong, Italy, Japan, Canada, Korea, New Zealand, Austria, Singapore, Spain, Switzerland, USA).
(2) Jiotsa B, Naccache B, Duval M, Rocher B, Grall-Bronnec M. Social Media Use and Body Image Disorders: Association between Frequency of Comparing One's Own Physical Appearance to That of People Being Followed on Social Media and Body Dissatisfaction and Drive for Thinness. Int J Environ Res Public Health. 2021 Mar 11;18(6):2880. doi: 10.3390/ijerph18062880. PMID: 33799804; PMCID: PMC8001450.