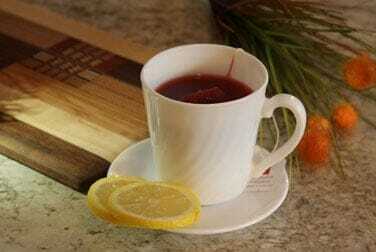 Period tea with completely natural ingredients
The latest hit from Germany – pharmacies are getting ready
For a long time it was quiet about entrepreneur and multimillionaire Enzo "Potenzo" from Offenbach. No wonder, when you consider that the windy (sorry: resourceful) German-Italian was just tinkering (keyword: Periodentee). The result is an invention from the more perverse corner.
After he was so enthusiastic about the fetish of menophilia, which suddenly appeared and put the masses in turmoil and disgust, he invented his own product: the period tea from real menstrual blood against the often predominant iron deficiency in women during menstruation.
Will the Period Tea soon be available on prescription?
Not only men can enjoy the beneficial infusion, Enzo also warmly recommends the hot drink to women. Especially during their days they can easily compensate the loss of iron.
When you hear about a menstrual cup, you certainly don't think about the period tea. Those are two very different things. The hot drink will soon be available for infusion. Not from the bag, but from a small red capsule that you simply open and pour into the cup. Then two minutes in the microwave and the period tea is ready.
Supermarkets and wholesalers have already declined, fearing a negative press if they sell the Period Tea in their stores. Sales and purchasing groups have also been sceptical so far. Only the Association of Pharmacies is open to the new product and can imagine including the Period Tea in its range. With a little luck, the tea will even soon be available on prescription.
In case of iron deficiency consult a doctor
"Ask your doctor or pharmacist" – or wait until the period tea from real menstrual blood is on the market. As soon as Enzo "Potenzo" has patented his inventions of the intelligent condom or dildo series for left-handed women worldwide, connoisseurs can look forward to a very special tea hour.
In the case of iron deficiency, the first step is to see your family doctor. According to the Offenbach inventor's plan, he can simply prescribe the period tea and anyone can easily redeem the prescription in the pharmacy he trusts.
---
Some have to be told: two or three contributions on this page abound with a nasty linguistic peculiarity – irony. And yes, we admit it openly: this also includes the article on period tea.