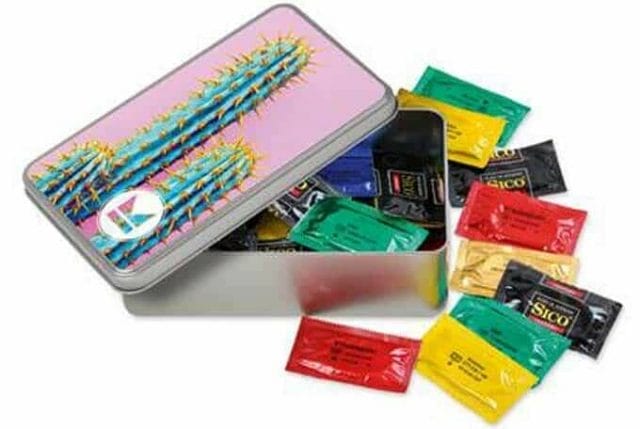 More than just a nub: The My Condom Box
Put an end to the same condom mixes and standardized mix packs, half of which end up in the garbage can. Everyone has different preferences and especially when it comes to sex. My condom has an answer to this that is as simple as it is unprecedented: do it yourself! With the My Condom Box, everyone can individually put together their favorite mix from a total of 21 varieties.
Colorful, studded, flavored or classic?
There is no end to the variety of condoms. There is the right condom for everyone and usually you have more than one preference. It's just stupid when you're forced to buy a pre-mixed condom pack where half the contents don't meet your needs at all. Half of the mix collects dust in the nightstand drawer or ends up directly in the trash can – that's not only a shame and unnecessary waste, but also a waste of money!
Mein Kondom is the first and only provider worldwide to have found the right solution: With the My Condom Box, you can individually put together your favorite mixture according to your own preferences and have it delivered to your home. 30 condoms come in a silver metal box and the mix is guaranteed to be your own: 5 strawberry flavored, 10 times classic, 5 ribbed and 10 x Safety Plus? Or would you prefer ten ribbed condoms? The condoms with mint flavor make you curious too? Then just put one or two in the box for testing.
Neon cacti to protect your favorite condoms?
You decide what's inside and you can choose from 21 different variants of the Sico brand. For all those who just can't decide, there is now a brand new option to choose from three ready-made mix suggestions from Mein Kondom.
However, so that the rubbers do not just fly around somewhere at home, My Condom has also developed the right solution for this: Your own mixture is delivered in a discreet, silver metal box that can be stored in your favorite place.
And the best: For the second order you choose the refill bag and refill your box at home easily!
It may be a little more colorful and eye-catching? We think so too! And that's why we are launching the first limited edition My Condom Box Design Edition, which will catch everyone's eye and is guaranteed not to want to be hidden away in a drawer. From now on you can choose between the plain and the stylish My Condom Box variant for the individual mix!
Attention addictive: In the next few months, My Condom will change the box designs and also launch more limited motifs. Do you want them all, do you want to collect?