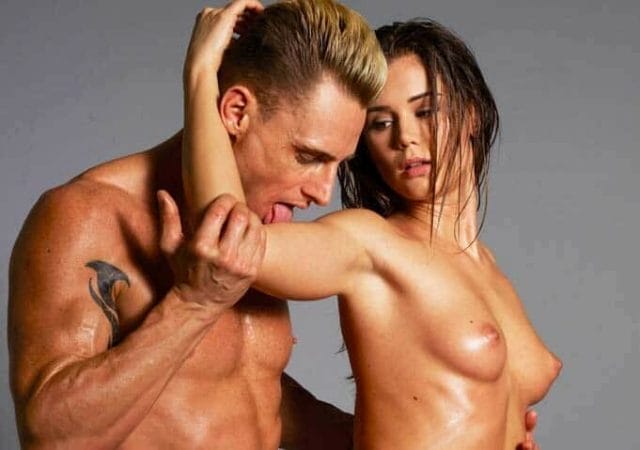 Marcello Bravo: Made a hell of an impression as a stripper and a man
Czech porn actress Little Caprice is certainly one of the greats in the industry today. She has starred in more than 1,000 porn movies, giving much pleasure to men all over the world. She has long been also well established as a producer. And yes, the 30-year-old also seems to have found her private happiness.
She is married to Austrian porn actor and stripper Marcello Bravo. How the two met at the erotic fair Venus in Berlin of all places is a nice little story.
Porn actress Little Caprice in 2012
Porn actress Little Caprice worked as a hostess for a production company at the Venus in Berlin, which is after all the most important erotic fair in Europe. Marcello Bravo, on the other hand, was booked there as a stripper. You have to know: The native Austrian was one of the best and most successful European strippers for many years. Of course, one of these could not be missing on Venus. At that time, he performed in a separate area that was only accessible to women.
During the breaks he liked to stroll around the fair and discovered porn actress Little Caprice. It was clear that he liked the attractive lady immediately. However, no opportunity arose to address her at first. However, that was soon to change.
Porn actress Little Caprice and her colleagues liked to take refuge in the area where Marcello put on his hot strip show – whenever they needed some peace and quiet from the hustle and bustle of the fair and the male fans.
How Marcello Bravo hit on porn actress Little Caprice
When porn actress Little Caprice came to this so-called ladies room once again, Marcello saw his chance had come. He was just getting on stage and putting on his show when he saw her come in. The well-built and in all respects stable Austrian immediately recognized the opportunity.
He jumped off the stage, pushed the stunned porn actress Little Caprice onto a chair and stripped right in front of her. When he was done with that, he finally whispered a few magic words in her ear. "I'd like to have sex with you," he said, as he recently told Austrian television on the talk show "Fellner live!"
Obviously this very direct kind of porn actress has more than impressed Little Caprice. It was just something different," says Marcello Bravo, "not one of the usual pick-up lines, but a clear and very direct approach.
» zur Website von Little Caprice
Damn honest the sentence was on top of that. Basically, porn actress Little Caprice was cracked by then. It should still take half a year until she and Marcello finally ended up in bed together. In 2016, the couple finally got married.
Austria's hottest erotic export
Today porn actress Little Caprice and Marcello Bravo as a couple belong to the most famous and successful erotic performers in Austria, if not in Europe. They are widely recognized in the conservative country, as evidenced not only by their appearance on said talk show. For a long time now, both have not only been working as performers. They also serve as producers and direct.
Marcello also runs a successful event agency. Who now thinks that two such hot performers would lead a life full of glamour and with endless sex, is very much mistaken. On "Fellner live!" the couple gave a little insight into their everyday life. And it is not so different from that of the vast majority of other couples in the world.
How to succeed sex with a woman like porn actress Little Caprice
Sleeping with a porn actress like porn actress Little Caprice is a dream for many men . With their image as free-spirited girls who are fully committed to their love of sex, porn actresses are a challenge that many would love to take on.
But how to sleep with a porn actress? How do you get in touch with these porn stars that make you dream? Here are the best ways to successfully sleep with a porn actress like porn actress Little Caprice.
Become a porn actor is the best way
The best way to sleep with a porn actress is, of course, to become a porn actor yourself. This is the most obvious solution, but it poses some problems. First of all, becoming a porn actor is not for everyone.
» zur Website von Little Caprice
Between performance and appearance, porn performers have to fulfill a very demanding set of duties. In addition, you need to be able to live the life of a porn star surrounded by family and friends. Because the life of an actor is not that of a bus driver or a merchant.
And if you can sleep with porn actresses like porn actress Little Caprice, that's a job where you don't always have the approval of your possible wife or conservative friends.
Popular Little Caprice porn actress places
To sleep with a porn actress, you can also take care of meeting her yourself. The most obvious places are erotic fairs, but they will be working there and not necessarily there to find sex. The best places to find porn actresses to have sex with are swingers clubs and libertarian campsites.
When they live out their passion for sex on vacation, they can do whatever they want there and show a sexual appetite that interested men can satisfy. Of course, they will visit these places especially during the vacations and will be there not as performers but as women, so interested people need to know how to seduce women like porn actress Little Caprice.
Sex with porn actresses as escort girls?
Some porn actresses also practice the profession of escort girls. Attention: the profession of escort girl is ambiguous and often hides luxury prostitution. In this form, it is therefore not legal in all countries. In Germany in particular, it is illegal. In countries like Switzerland, the Netherlands or Spain escort / prostitution is allowed.
You can go to special websites that list the travels of porn actresses who work as escorts. And men can make an appointment with her. You just need to be willing to travel to a foreign country to sleep with a porn actress.
Sex via websites
Finally, the best way to get into bed with porn actresses is to visit dating websites that are known for attracting a libertarian population and thus erotic actresses like porn actress Little Caprice.
» zur Website von Little Caprice
When they want to break out of the too strong frame they find in filming, these actresses look for one-night stands with whom they can rekindle their passion for sex without coercion.
We are not saying that men will find porn actresses there every night. But what is for sure is that there they can find sex with especially open girls like porn actress Little Caprice. Among them porn actresses who are stars or amateurs.
We will not name names, that would be illegal. But if men search well, they will find some actresses that they can see regularly on the first Saturday of the month on these pages.
Little Caprice is not just a porn girl
The sweet Czech Marketa, as Little Caprice's real name is, lives with her husband in Austria and there they also have their private rendezvous in the swinger scene. Marketa loves to suck other cocks and Marcello is also never averse to licking another woman's pussy or sinking his big spanking into her wet cunt.
Often, though, they'll snack on a second woman together or enjoy watching another couple get laid during group sex. But they also love it when you watch them having sex. They can't get enough of the greedy looks of others as they make animalistic love in front of them.
» zur Website von Little Caprice
Not infrequently, the two porn actors then also get carried away to the hot group sex, so that an orgy like in ancient Rome can arise. Here, Little Caprice often takes the submissive role, while Marcello wields the scepter – or his considerable penis.
Private super cute porn couple
Anyone who gets to know the two away from the big media hype will find that the two are a porn couple with virtues that are often sought in vain in the industry: Diligence and reliability. The two are working on their careers like perhaps only Texas Patti in Los Angeles (United States of America) at the moment. They know how the hare runs and are thus always on the cutting edge when it comes to finding new orders and new sales channels.
So Marketa and Marcello are constantly looking for new pretty women to join them and benefit from their experience. After all, the attractive Czech and the handsome Austrian have made it all the way to the top.
In addition, both are very open to their fans and so nothing stands in the way of a chat at one of the next erotic fairs with the two actors with probability bordering on certainty.