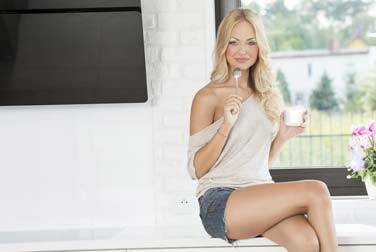 Why yogurt from the vaginal flora may not taste good
It's getting crazier and crazier! Who does that?
Yogurt can be made from vaginal secretions. The reason for this is the probiotic bacteria in the vaginal flora. So in the future, pussy licking can be understood not only as a sexual pleasure, but also as a culinary one. Not necessarily. While the yogurt from vaginal flora thing is no fun, does it taste good and can it even be harmful?
---
Eronite empfiehlt dir diese XXX Videos, Livecams & privaten Kontakte:
---
Yogurt from the vaginal flora is not a joke
Yogurt from the vaginal flora – it sounds either like a bad joke or pretty tempting. Well, it's neither a joke nor a tantalizing treat. In principle, yogurt can be obtained from the vaginal flora. To do this, you need to know: There are hundreds of bacteria in a woman's vagina. This is perfectly normal and must be so. Some even want to lose weight with it. Among these bacteria, there are several probiotic bacteria that can be used for yoghurt cultures – for example, lactic acid bacteria and especially the bacterium Lactobacillus. The latter has been used for centuries for the production of cheese and many other dairy products. It is also the base of any yogurt.
Probiotic yoghurts should be well known from advertising. They are said to have a particularly positive effect on the human intestine and, above all, to ensure healthy, regular digestion. So why not make probiotic yogurt from vaginal flora? This is certainly possible, as an American scientist recently proved in a self-experiment.
All she had to do was remove vaginal secretions from her vagina several times and collect them. By the way, the extraction took place by means of a wooden cooking spoon. To what extent she enjoyed it sexually is not known. In any case, the secretion served her as the basis for a yoghurt culture, which eventually became actual edible yoghurt. Yoghurt from the vaginal flora.
Silly thing is, this very special dairy product may not have tasted great. The taste of the first production was said to be very fresh, but also very sour. A second batch apparently tasted like sour milk.
Advisable for health reasons?
Eating the yoghurt from the vaginal flora is, moreover, not a very good idea for health reasons either, it seems. The vaginal secretion contains not only the good bacteria, but also those that can harm the human body if eaten. Some of them can even be poisonous. In this context, an American regulatory authority also pointed out that vaginal secretions are not foodstuffs. There was even the danger that diseases could be transmitted through them. A yoghurt from the vaginal flora thus represents at least one potential danger – a danger that should be safely avoided.
However, the idea is apparently still appealing to many women. They are concerned with the value and power of their own vagina and thus also with their own self-image as women, one may well conclude. After all, experiments like yogurt from vaginal flora can break up a certain uptightness that is known to be particularly high in the US.
The experiment shows that it is a completely natural thing that works exactly as nature intended. And that's worth a lot. Since the yogurt from the vaginal flora is now not necessarily the racer in terms of taste, here follows another very tasty tip: pussy licks is always a real treat for all involved and absolutely fat-free.