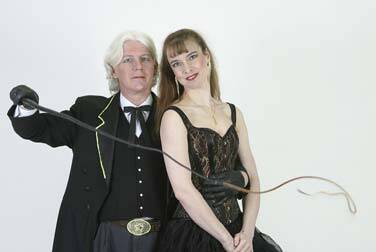 Inhaltsverzeichnis dieses Artikels
The whip with the sonic boom
The Bullwhip – Give me the whip, honey!
In whip lore, the bullwhip has a special significance. This is already indicated by the name, which means bullwhip in German. Until today this whip is not only a striking instrument in SM practice, but also a working tool of cattle and horse herders. Bullwhips are even occasionally used as weapons and for hunting.
---
Eronite empfiehlt dir diese XXX Videos, Livecams & privaten Kontakte:
---
What's a bullwhip?
From a purely technical standpoint, the bullwhip is a single-tail, single-string whip. This statement is not entirely true, however, because the bullwhip's tail is made of several (up to 10) leather straps that are artfully intertwined. A classic bullwhip has a firm handle, often made of wood. However, there is another variant with a flexible handle, often made of leather. These whips are called snakewhips. Because they can be rolled up to save space, such snakewhips are still the preferred tool of cowboys today. Bullwhips for SM practice are usually between 1.30 and 1.60 m long. High-quality specimens are made by hand and cost well over 100 euros.
Little whip lore – The bullwhip in the SM area
Compared to other percussion instruments, the bullwhip is relatively rarely found there. This is because it is a potentially dangerous percussion instrument that requires years of practice to master safely. With a whip you can under certain circumstances not only hurt a person, but even kill him. There are verified reports that cowboys killed wolves with their bullwhip. A vivid proof of the power of this whip is the famous crack of the whip. This is caused by the whipcord moving at supersonic speed, breaking the sound barrier. Just imagine what would happen if a punch missed and hit your partner full force!
Anyone thinking of incorporating a bullwhip into their SM games should definitely practice beforehand and be sure they are 100 percent proficient with the whip. The best way to do this is not alone, but in the community of like-minded people. There are forums on the Internet where you can not only get good advice, but also meet in person. On these occasions, the old hands can teach the newbies tricks of the trade.