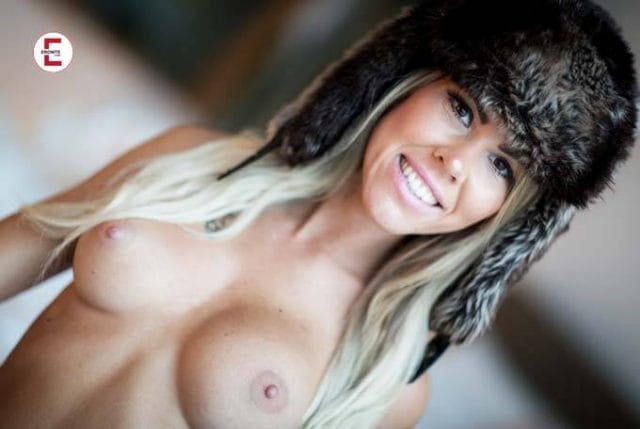 Sexy erotic model instead of monotonous office job
Lara Bergmann is an erotic treat of a very special kind. The perky brunette with the dream dimensions stands for fun, action and sex appeal. There is only one thing you will look for in vain with her, and that is boredom. The pretty mouse lives out her erotic dreams, which can be admired in Lara Bergmann porn.
Dream girl, tattoo mouse and hellcat – Lara Bergmann is all of it
At the sight of this dream of male fantasies made flesh, one's blood pressure automatically rises. Whether you admire Lara Bergmann naked or in one of her many sexy outfits doesn't matter. The thirty-something with chin-length brown hair has very respectable 92-61-90 dream measurements.
In addition, there is an eye look that is unparalleled. The look from her beautiful brown eyes is so penetrating that it can even melt icebergs. The erotic body of Lara Bergmann is decorated with a variety of tattoos. For example, her left upper arm is fully covered. There are also tattoos on both back thighs, above her right breast and on her waist.
Live your dream – even in the fast lane if need be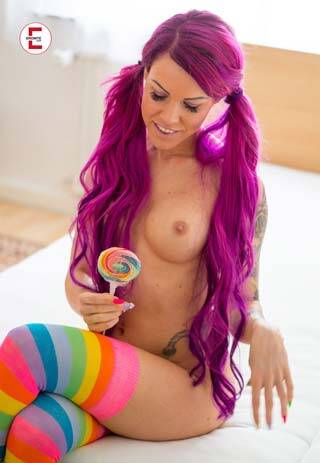 Many people dream of self-realization. But few dare to turn their ideas into reality. Fortunately, Lara Bergmann is one of those few people. The sexy brunette lives out her sexuality and is not afraid to try new and even unusual things. So she expands her erotic repertoire with nice regularity. New idea for a role-playing game? A user request for the Livecam? Lara is literally up for almost anything. Dirty and horny it should be. After all, she wants to have fun herself.
Speaking of fun: The viewers of Lara Bergmann porn have fun too. Because they are always present when the sexy dream woman gathers new sexual experience and then live it out full of verve. The viewer leans back relaxed and enjoys it when Lara Bergmann lolls naked in front of the camera. Stimulating dirty talk included. Lara has the most fun when they both get horny together. She in front of the cam and her fans in the armchair at home. Now it's a matter of working together towards the climax.
But even though Lara Bergmann likes fast-paced action, she can also take it slow. Skillfully, she knows how to delay her game at just the right moment. These changes of pace are typical for the sharp tattoo mouse and can drive her playing partner to a pleasant white heat.
We had Lara Bergmann in the interview
Our editorial team was delighted when Lara Bergmann agreed to be interviewed. We asked her some – partly very spicy – questions about her love, sex and porn life, which she gladly answered and the exciting result we proudly present to you here: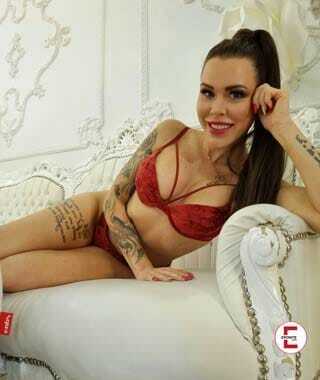 Eronite – The Erotic Magazine For many people your work is considered rather unusual, sometimes even perhaps negative. How did you get the idea to present yourself in front of the webcam? What exactly attracts you to this work? How do you deal with negative comments about your work?
Camgirl Lara Bergmann I came up with the idea because I always like to try new things. In real life, I am rather less daring to approach people and have even been shy. But I have always loved eroticism and also like to present myself. Through the webcam I can present my open and revealing side as I like it. I don't really care what others think about it. My family knows what I do and has no problem with it. And if others don't like it, they don't have to come to my cam. Most of those who have a problem with this tend to be jealous wives. Many others, however, with whom I sometimes talk about it, even find it very exciting and interesting themselves.
Eronite All beginnings are difficult, the first time usually everyone is very excited. Do you remember what it was like to stand in front of the webcam for the first time? What feelings did this awaken in you? At what age did you stand naked in front of the camera for the first time?
Lara I really stood naked in front of the camera for the first time when I was 18 or 19. I think that was for the BILD newspaper. I didn't think they would actually show me, which is what happened. The first time in front of the cam I was of course very excited and still a bit shy. But I liked it more and more to show myself. It then went very quickly that I felt totally comfortable. I could present my openness and horniness here as I wanted and as I simply am. There are really even some days when I orgasm up to six times a day. I also believe that I am now so well received by my regulars because they know that I am not pretending to them, but am simply the way I am!
| STECKBRIEF | Lara Bergmann |
| --- | --- |
| Wohnort | Mannheim |
| Geburtsdatum | 5. November |
| Sternzeichen | Skorpion |
| Körpergröße | 165 cm |
| Gewicht | 52 kg |
| BH-Größe | 75 C |
| Intimrasiert | Landing Strip |
| Haarlänge | Lang |
| Hobbys | Sport, Fitness, Sex |
| Lieblingsfilme | Action und Fantasy |
| Lieblingsfarben | Genau wie bei meiner Haarfarbe kann ich mich nicht festlegen, mal bunt, dann wieder schwarz |
| Das mag ich | Interessante Menschen, Reisen, Action und Abenteuer |
| Das mag ich nicht | Langeweile |
Eronite Due to your work as a tattoo, fitness, and erotic model, you are certainly on the road a lot to do your job. Do you have another job? How many hours a day do you spend online in front of the cam? Can your viewers see you in front of the cam every day?
Lara I also work as a secretary on the side. Before the livecam my fans can come visit me every day except Tuesday and Thursday. I'm usually on the camshow from 10am to 12pm and from 5pm to 7pm. Saturday only now and then, since I'm mostly on the road here.
Lara was also caught having outdoor sex before
Eronite You come across as very wild and untamed. Very different from the good girl next door. But how would you describe yourself? What is your personality like? Do you think it's beneficial to be open with the topic and not be shy?
Lara As I said before, I have always been very shy. But in front of the sexcam it looks different for me. Here I can be as I want, which I have not dared to do in my life so far.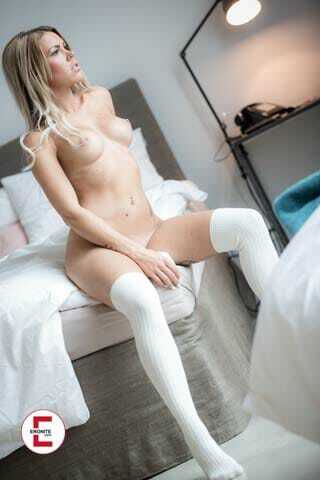 Eronite Some people don't feel embarrassed about anything. They rarely if ever let themselves get rattled. For other people, sweat breaks out after just seconds. Especially in the erotic industry, there are certainly some moments that embarrass you. Have you had any embarrassing moments that you would like to forget?
Lara Oh yes, I have experienced many embarrassing situations. Especially when you shoot outdoors, it can often be dicey 😉 A really embarrassing experience I have not really experienced, I'm relatively relaxed about nudity and eroticism. Sure, I've been caught having sex before, but I think that's what makes it so appealing.
Eronite Some days are best passed as quickly as possible. The sad truth is, bad days happen every now and then and cannot be avoided by anyone. It's best to put a hook on the day and wait for the next one. How do you get other thoughts when you're having a super bad day and just want to run away?
Lara When I'm in a bad mood, I listen to music, ride my bike around the neighborhood or do weight training to let out my frustration there, for me the best way to come down.
Eronite What exactly do you do in front of the camera? What are your favorite scenes to shoot and do you have any special preferences that you particularly enjoy? What do you enjoy most about these things and do you really feel pleasure in doing them? Does it really make you orgasm every time?
Lara I love to be able to live out my sexuality freely and also find it very important. I love the freedom I have in doing this and think it's great to always be able to try out new exciting things too. However, shooting on camera and having sex off camera is just something different, which doesn't mean it's not fun. It's just different and no, there's not always an orgasm in the process, but that can happen in real sex too!
Many times fans have fallen madly in love with me
Eronite In your webshop you sell underwear and dildos that you have worn or used yourself. Customers who buy such a product will surely have a lot of erotic fun with it. What appeals to you about this idea? What is your favorite sex toy to use? Can a customer order custom items from you that you have already used or worn?
Lara I honestly find the idea of a customer having fun with my toys, linens et cetera pretty awesome. It's great when I can bring joy to people and of course you can also express very individual and personal wishes in my store, I'm always most happy about that.
Eronite Have you ever met with an audience member in person? What positive experiences have you had with it? Are there any negative experiences you can report? Can you imagine dating a viewer seriously and getting involved in a relationship with them?
Lara Yes, I have already had one or two meetings with users, especially in the dominant area. Mostly it is submissive men who come to visit me. A relationship with a fan? Hm…, sure, if it fits humanly, why not!? He then knows at least once what I do and then I do not have to explain so much!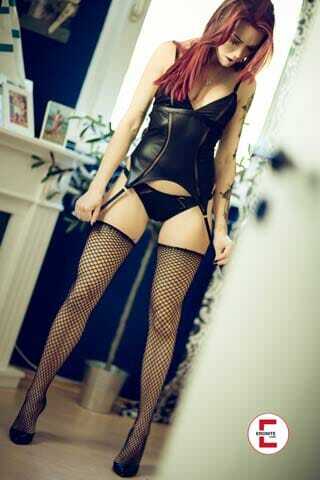 Eronite Even though it should be clear to every viewer that you are not looking for a steady partnership this way, some viewers certainly can't tell these two sides apart. Have any of your viewers ever really fallen in love with you? Have you maybe even had experiences with stalkers? How did you deal with it? How will you deal with it if this were to happen?
Lara It has really happened very often that fans have fallen in love with me and I actually find that always quite sweet. The important thing is simple. to make it clear to the fans, up to here and no further. You should just be honest about that. Fortunately, I haven't had a stalker yet.
Eronite Some people have fetishes or desires that absolutely do not excite you. It is quite normal, because not everyone is equally open-minded on the subject of sex. What were the strangest requests of your viewers? Have you ever experienced having to turn down a request from your audience? What do you count as your taboos?
Lara I have already experienced an incredible number of crazy things in front of the cam and every time I think nothing more can come, yet something extraordinary comes 😉 … and someone tops it! But what I have heard and experienced the craziest things is the diaper fetish. That men think it's great to wear diapers. But also the garbage fetish, so that I should show my garbage. Or the balloon fetish, meaning blowing up balloons and then making them pop. But the funniest one was to sit on my leather chair. It had such a leather air cushion and the user wanted to hear how the air goes out when I sit on it and I should imitate this sound ("Pfffff") and tell exactly how I feel about it. [Lara laughs out loud, annotation d. Ed.]
Unfortunately, some men think they can treat you like dirt
Eronite If you publish videos on the Internet, you get a certain level of recognition in public life. Even though the adult industry is rather anonymous because no one wants to "come out" on the street, there are certainly people who are open to looking at your pictures and videos. Have you ever been recognized and approached by a fan on the street? Has a viewer ever been too pushy with you?
Lara I've been recognized more than once at the gym, for example, or while shopping or just out shopping. However, very few people dare to approach me. I then usually always get messages on Instagram whether I was just there or there. But of course it has also happened that someone has addressed me personally. There I am always happy about it 😉
Eronite The job certainly comes with a few negative sides, which can make you brood yourself. Boundaries are crossed or everything is not what is best for you. What would be the first thing you would change about your job if it were possible? What negative situations have you experienced?
Lara Some men really need to learn a lot of respect. Unfortunately, some men think they are allowed to treat you like dirt. This simply does not work and these may then also leave my cam with pleasure immediately…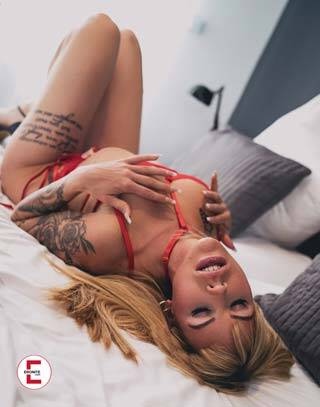 Eronite It must be exhausting to pose for hours in front of the camera. The body must look good and always stay in shape. How do you keep fit in your free time? Do you like to do sports? Can you imagine doing other sports?
Lara Sure it's exhausting sometimes when you spend several hours in front of the cam, but I always make myself comfortable on my gaming chair or on the bed too from time to time. Sport is very important for me! Not only to stay fit, but also to clear your head.
Eronite Often this job seems very superficial, because mostly only the good appearance of the body is taken into account. The good appearance is more than important in the erotic industry. Do you enjoy the fact that many only pay attention to your shell or do you sometimes feel too reduced to it?
Lara Yes, the erotic industry is quite superficial in my opinion and yes, I am often reduced to my body. But there are also fans who come to see me on the show because of my cheerful nature and appreciate my character. I even had a fan once who only wanted to see me in front of the cam in my sleepwear.
Eronite For many men it is attractive to see two women or even a man and a woman together in front of the webcam. Are you always alone in front of the camera or do you have guests with you from time to time? Have you known the guests for a while or are you just getting to know them during the shoot?
Lara Mostly I am alone in front of the livecam. But sometimes I do girl/girl shows with girls from the industry. I also sometimes do shows in front of the cam with my shooting partner. Every now and then I can even be found with a slave on the webcam show.
Serving as a jerk off template is real confirmation for me
Eronite For many people it is difficult to show themselves in such an erotic way or to accept it when a beloved person shows himself in such a way. Some people also feel ashamed when a good friend shows himself naked on the Internet. Do your friends and family know about your job? Do they accept your job? What do they think about it? Did your relationship with them change after you told them about your work?
Lara My family and friends all know what I do for a living and they really don't have any problems with it and fully accept it. They also always find my stories very amusing when I sometimes tell them about fans and curious cam experiences.
Eronite In private, everyone always hears the same complaints from their girlfriends on the subject of sex about men. It is often not easy to satisfy a woman properly. What do you think most men do wrong in bed? Can you give the gentlemen a tip on what exactly they can do better so that girlfriends, wives or sex partners get their maximum enjoyment out of sex?
Lara It is important to talk about your needs and inclinations. Many couples don't talk to each other about what they like, and are ashamed to bring up what they'd like to try or what they don't like, that maybe sex is too boring. You don't want to hurt the partner. But in my opinion, this is exactly what leads a man or woman to cheat. That's why my tip is to always say what you like, what you don't like, and what you'd like to try.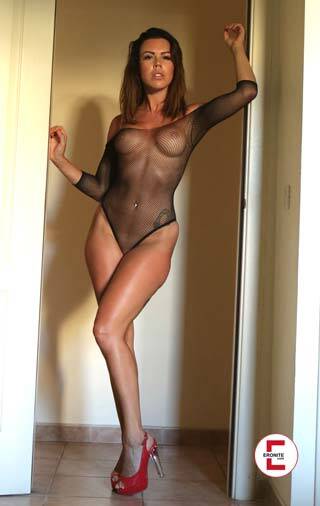 Eronite Most men use you and your videos as a "jerk off" template. The word is largely associated negatively and many women are disgusted by this type of satisfaction and therefore fundamentally reject it. How do you deal with it? Does it even disgust you sometimes? What appeals to you about acting in front of the camera for umpteen men and being their masturbation model?
Lara I personally find it horny when I serve men, women and also couples as a jerk-off template. I don't find it offensive, but rather see it as confirmation.
Eronite What has your dating experience been like so far? Are you taken? Do you tell people about your work right away on the first date? How important is it to you that your future partner accepts your work or would you even give up your work for your real partner? What does the male world say about your job when you meet them on a private level?
Lara I am always very open and stand by what I do 1000%. That's why I'm always very quick to jump at the chance. Why mention it only on the third or fourth date, it doesn't change anything! And I would never give up my job for a partner. You can compromise if it's okay with both of you, but stop altogether? No!
Eronite As Lara Bergmann, you have a lot to do with eroticism and sex in your job. For you it's normal to have sex in front of the camera. Certainly, there are still plenty of differences to private life. How does sex in front of the camera affect your private sex life? Do you still have a lot of sex in private? What are the differences between sex on camera and sex in private?
Lara Clearly, sex with and in front of the camera is different than when I have sex in private. When shooting, of course, you have to pay attention to the technology, that the picture fits, the lighting and so on. Private sex, on the other hand, is of course more spontaneous and "informal", in the videos you also often fulfill wishes of fans or play a role. This is usually not the case with private sex.
I give away a lot of love – professionally and privately
Eronite In public, any job that has to do with the subject of eroticism and sex is not well received. There are many prejudices that a person from the erotic industry has to fight with. This makes one's work more difficult and often inhibits one's enjoyment of it. What do you want to say to the people who don't accept your job and shower you with prejudice?
Lara Unfortunately, society is often very uptight when the subject of sex comes up and most people often have a false image of what I do. For example, I live in a very rural area in a small village, so the chatter started very quickly and people added a lot of things to it. I educated people, told them what I was doing and many were puzzled. Whoever doesn't accept it should just leave me in peace, I'm not doing anyone any harm. On the contrary – I give away quite a lot of love 😉
Eronite Do you prefer to have new users in your chat every day or are you happy to see the same person more often? Do you already have regular viewers that you recognize time and time again? Does a regular viewer have any advantages that a person who rarely attends does not?
Lara I have many guests or fans that I have known for years and find it great that they accompany me over the years and remain loyal to me. I think it's great when you "know" each other and often you even chat a bit about private things. I appreciate that very much. But of course, new fans are also welcome to join me and I'm happy about everyone who comes to visit me in my cam or who sees my videos for the first time.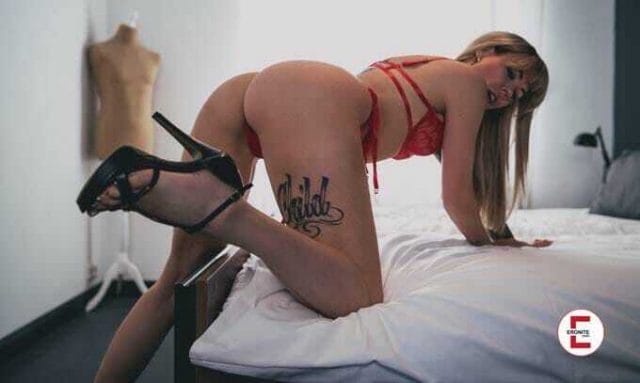 Eronite The world of work is very flexible these days and offers many opportunities for reorientation. Age is usually not a major factor. You're still very young and have your whole life ahead of you, so hand on heart, do you think you'll work in this industry your whole life? Can you imagine still doing this job with a husband and kids, or will you be more well-behaved from this point on?
Lara I already have one child and I'm still doing this job 😉 As long as I love what I do and people want to see me and I stay healthy, I'll keep going. And many of my regular users have been with me since the beginning and "age" with me and I hope, of course, that they will remain loyal to me.
Submissive or dominant games with tattooed hellcat?
As I said, Lara Bergmann is all about action. She is also eager to experiment. This explosive combination just screams BDSM. A tattooed dream woman with these divine body measurements is without a doubt the dream of many submissive men and many a submissive woman. About the appropriate wardrobe, black, tight and sexy, Lara has in sufficient quantity. But is she also in possession of appropriate toys? If something is still missing here, it can certainly be remedied quickly.

Read also:
– German pornstars: 40 most popular amateur girls
– Xisca Bond – Official Natural Tits Website
– These 9 international camgirls you should know
– Haifa Muslim Porn: Arab Camgirl From 1,001 Nights
– 15 hot girls: erotic lifestyle made in Germany
Not to mention, what dominant woman needs toys when she can bring men to their knees with her piercing gaze alone? Her brown eyes are just predestined to give orders and be adored by men. If the sight of her eyes is not enough for this, you may take a look at the rest of her appearance. At the latest the view of her horny body makes submissive men land directly at her feet. Voluntarily, of course. Because once you have fallen under the spell of this hellcat, you become addicted to it.
But LaraBergmann wouldn't be the ratty slut she is if she only covered one side of SM. Who dreams of LaraBergmann naked and as a slave, may now become bright. But be careful. If you want to tame a hellcat, you are playing with fire. Those who are sure of their position of power and know how to use it are welcome to trust me. The challenge is great and certainly not easy to implement. Quite a few will fail in the attempt and instead end up in the slave pen for their part.
But those who make it to the finish line know that it was worth all the effort. Who can claim to have tamed a hellcat? Maybe Lara can be made to purr at this point and taught a trick or two. Submissive Lara Bergmann porn is the result.