---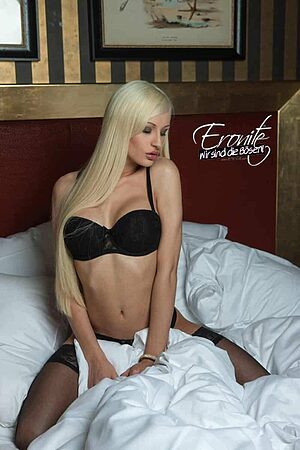 I freely admit it: I hired Kimber Lee before I ever met her in person. I am a man. And we men respond to key stimuli. And Kimber Lee goes straight to the fucking brain stem! The Trans-Girl from the Bavarian province (Five houses in the village!) is 19 years old and looks like Paris Hilton with a tail. She is tall, blonde, has a perfectly symmetrical face, plump big tits and long – at this stage – dark blonde hair. So she signed the contract before I met Kimber Lee in the flesh. A bit of a risk game. But when I pick her up for the first time to start shooting with her, I see in the famous first seven seconds: I see that the girl is very likeable. That was a right choice!
Kimber Lee moves more feminine than most women. She prances on her high heels, flies straight. No matter whether she wears jeans and top – décolleté up to the knee – or lingerie: this woman has all eyes on her. From the gas station to the porn party – the men want it, the women want it too or want to be like them. And that's exactly how you notice it in my everyday work: It took this woman three damn days for 1,700 Likes on Facebook. Already in the run-up she had 5000 friend requests and hundreds of subscribers within a few weeks. Friends and porn icons write to me, they all want it! Producers, actors, men, women, whatever! My own popularity is boosted by this woman and that of the Eronite agency as well. I work hard and diligently and it pays off. But Kimber Lee raises the level by many levels.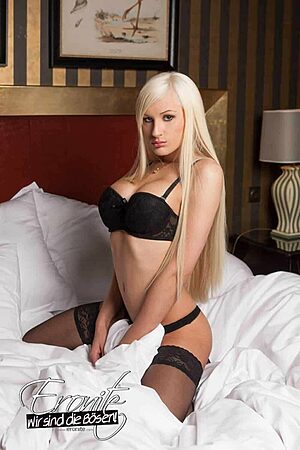 And the girl stayed on the floor. She looks a little crazy when she warbles into her white Iphone on the passenger seat of our small car with designer handbag and Gucci sunglasses: "Yes honey, you know like the men are! Did he ever buy you anything? He should buy you something, men should buy us something!" But when you talk to her, you feel comfortable and accepted. She flirts, not pushy, but with a good portion of bitch. She leaves no doubt that behind this elegant, perpetual flyer is a porn actress of passion: "I want dicks, lots of dicks, let's do bukkake today, all of them splashing out on little teeny girl Kimber Lee…" She just says that on the side. Between a champagne glass and talking about shoes or weekend trips to VIP parties. Speaking of which, high society is very interested in our Kimber Lee. At the same time, she reveals that she has received a few invitations for a world tour or shopping in Ibiza. The millionaires don't always suspect that she has a cock – but sometimes they know very well.
What happens when the proverbial bedroom doors are closed? GOD DAMNED! That woman is a whore! A fucking sloppy, anal whore! She sucks like a goddess, rattle, torment, choke. And when Kimnber Lee then lets herself be fucked in the ass, she heats up her prick with dirty talk, which you wouldn't expect from a lady anymore.

Her eyes are alternately directed at the man behind her and the camera lens. She's dropping herself: From a country girl who sucked cock for car rides to a city disco to a porn slut. I've never seen anything like it! In the course of our first shoot, we brought a number of men on land who were still a little unsure about the subject of "Trans". The boys have ego problems when under the skinny ass in front of them a cock between the legs can be seen. Kimber Lee swears that there are still a lot – a large amount – of men, who have fucked her and to this day have no idea that they had their dicks in a tranny. These are not fairy tales. Kim has a knack of laying herself during sex in such a way that her cock disappears optically. Even my camera assistant on the first day of shooting was amazed in retrospect at how difficult it was for her to catch Kimber Lee's big cock while filming.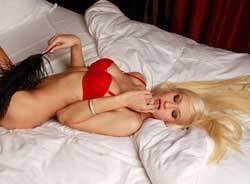 What are our plans with the beautiful TS Princess Kimber Lee? The offers roll, roll, roll. We can't keep up. That's why we set priorities: One or two celebrities have already contacted us who would like to show themselves in front of the camera with the blonde. So far we have already grazed some pearls like Mia Bitch, Anni Angel, Sexy Jules. In addition there were some experienced actors and amateurs at the start. Kimber Lee is contacted from all sides: European countries and the United States are also involved. We will carefully select which offers are worthwhile and at what conditions. Kim is top of the league, if only because of her great nature, her top character, her talent and her fantastic looks. As things stand at present, I estimate that we can let the future come our way. Nevertheless, we will use all channels and contacts available to us to catapult our hopeful Kimber Lee to the top. Around us a great crowd of supporters, fans, admirers, employees and colleagues from all over Germany are helping. We are all damn confident!
… first published in the print edition "Diskretes Deutschland" end of June 2014
---