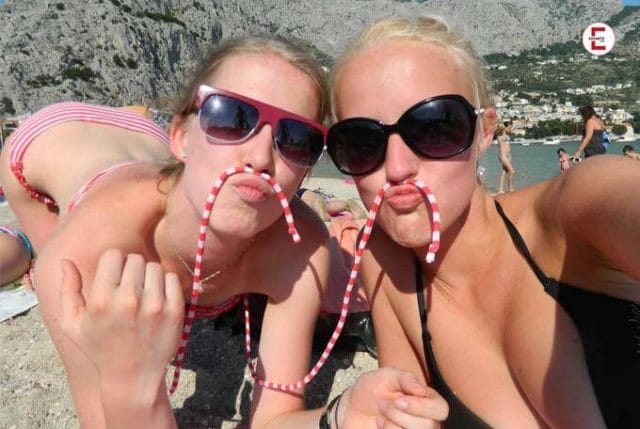 I was seduced by my little sister's friend
I would not have thought that possible myself: I went to a girl of just 18 years into the Venus trap. And that as a seasoned guy in his mid-30s (and husband). How this could happen to me, that I was seduced by my little sister's friend, I have to get off my chest.
---
Eronite empfiehlt dir diese XXX Videos, Livecams & privaten Kontakte:
---
Until now, I thought I had a certain maturity and was no longer as susceptible to female charms as I used to be. I like my wife Daniela and we have pretty good sex quite often. I admit that I often think of young girls. I love peach skin, soft curves and youth freshness. I've always dismissed this as my secret male fantasies that I satisfy with porn.
My little sister is a slut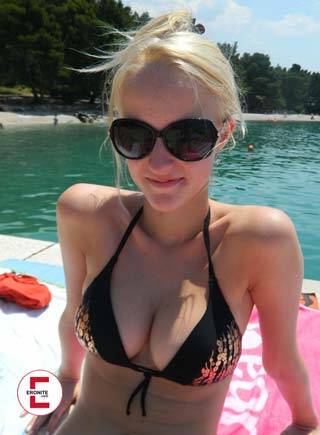 Her name is Michelle and she is 15 years younger than me. When I was a boy, I found this fact embarrassing. In the meantime, we get along quite well. Many times Michelle was mistaken for my daughter. The other day we celebrated Daniela's 30th birthday – in grand style. Of course, I also invited my sister. She didn't come with a guy, but with a beautiful young girl.
That this Lara and Michelle had something together, everyone could see. They literally stuck to each other. Probably the sexy babe had also seduced my little sister. I would have loved to stare at Lara non-stop, she embodied my wet dreams of irresistible young sluts. That Michelle was one, I knew long ago, with or without Girlfriend.
The birthday party got out of hand
Something was in the air that night. The women had all dressed up extremely and Daniela had discreetly lit our garden with torches. She wore a tight dress that stretched over her tits and hips. We had hired a disc jockey, and the strawberry punch apparently went to more than just my head.

Read also:
– The confession: in love with the sister of the girlfriend
– Erotic story: My sister's wet panties
– The confession: I blackmail my sister Lisa
– My confession: I have sex with twins at the same time
Lara's sight made me additionally drunk. That silky long blonde hair down to her shoulders, those big green eyes and strawberry red lips. Long legs, a short skirt and a belly top in golden yellow – she was really a looker. Michelle with her red hair in vintage cocktail dress and they were a beautiful couple. I would have loved to be seduced on the spot by my sister's friend. I had no idea that this would happen that very night.
In retrospect, it seems as if I had a film break at some point. By the time I was lucid again, the scene on our patio and in our backyard had changed. There was smooching everywhere, I also saw my wife in an embrace with one of our friends. Michelle was hanging out with some guy type sugardaddy. There was nothing to see of the dream girl Lara.
I was seduced by my sister's friend
I had no desire at all to look at the fumbling around me. I felt no jealousy regarding Daniela: she always knew how far she was allowed to go. Which is more than you can say for me, as it turned out a few minutes later. That's when I felt seduced by my sister's friend.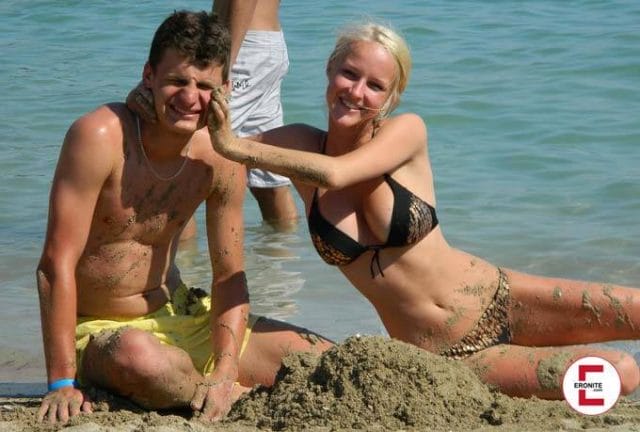 I retreated to the quieter part of the garden, where only a few smokers were standing around. I felt something, I sat down on a stool. That's when I heard a bright voice, "Are you going soft yet, beautiful man?" Lara squatted in the grass a few steps away from me with her knees drawn up. I could see up to her crotch.
"You're beautiful!" I couldn't think of anything more original. "Why don't you come closer and I'll wake up." "You know what goes on then?" she asked cheekily. Adding, "No one can control themselves around me." I realized she didn't have the best opinion of men. That must be why she was with Michelle.
She stood up and sat on my lap, light as a feather. Already at that moment my sister's friend had seduced me – I could not go back. How this girl could kiss was incredible. But Lara had more in store.
I just could not resist Lara
My nose I had buried in her silky hair, my hands caressed her flat belly. From there my fingers got under her top. I could feel her hard nipples. In the meantime, Lara had unwrapped my cock and just said dryly, "Respect!" She didn't seem particularly horny, but I was already hopelessly seduced by my own sister's playmate.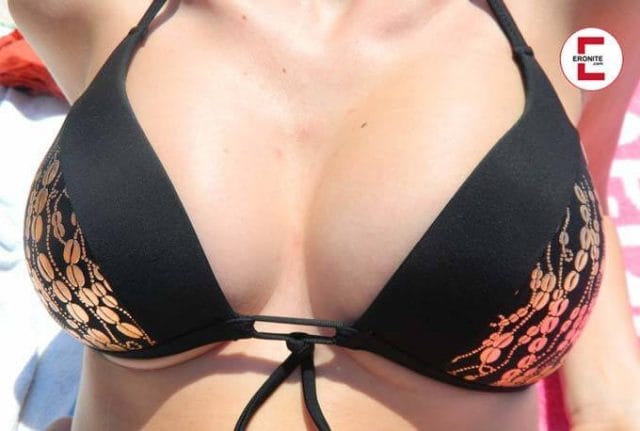 I would have done anything to be allowed to penetrate her fresh tight pussy. But Lara was not going to make it that easy for me. She held my penis and jerked it gently. "Make it harder," I begged her, licking her nipples. "You have to wait, you have to wait, you have to wait!" I found her singsong to be both charming and torturous.
I tried it differently and let my thumb drive back and forth between her tight buttocks. Her reaction was rather weak, but she put a little more speed in the handjob. "Say you think I'm horny!" She wrapped me around her finger, savored her power over me.
My sister's friend had not quite seduced me yet, but not much was missing. "I think you're horny, Lara," I groaned. And thought: I hope no one sees us. "Everyone wants to fuck me," said the vain little beast. "Do you want that too?" "Yes," I stammered like a moron, "yes, I want to fuck you." And thought, I hope she doesn't record this nonsense.
The party comes to an unexpected end
I was hoping that Lara would now sit on my cock, when she said, "I think Michelle is looking for me." "Oh well," I grumbled, "it stays in the family." I already had two fingers in her slit. She stuck her tongue in my mouth again, driving me crazy. I had the feeling that my hard-on would have to burst right away. I had been seduced by the nasty girlfriend of my little sister, but something was still missing.
As if she wanted to make that clear to me once and for all, she slipped off my lap. "I better go see Michelle!" I was left alone with a huge orgasm.
Lara also seduced my sister
Honestly, I felt pretty stupid with my dripping dick in my hand – flattened in my own backyard. Had someone been watching me, could someone see me during my perverted actions? Cautiously I looked around, but all the guests seemed to be busy with themselves. I wanted to be angry at Lara, but just thinking about her and her intoxicating scent made my best friend grumble again and grow to considerable size.
Sighing, I pulled up my pants, leaned against a tree and lit a cigarette. But despite the smell of tobacco, I could sniff that Lara was approaching again. Suddenly she stood next to me, grinned cheekily at me and asked: "Do you know that I also seduced your sister? By the way, I can pop with you, she just allowed me. She even told you to fuck me properly like a wild stallion!" Provocatively, she stood in front of me. She pulled up her top and showed me again in the moonlight her gorgeous young boobs with stiff protruding nipples. And again I instantly fell for Lara's charms.
She should not escape me again
"Bend over, you little beast!", I ordered her with a head movement towards the stool. "First tell me you're crazy about me," she demanded, sliding a hand between her thighs. "I'm crazy about you," I stammered, "but just do it already!" My pants were already flapping around my legs again, my willy was standing at attention. Secretly, I had first wanted a splashy blowjob, but now I just wanted to fuck.
Lara pulled up her little skirt and bent over the stool. She stretched her sweet ass in the air and rubbed between her legs. "That's exactly how I seduced your sister," she giggled. "She fucked me with the strap-on. But I prefer a thick cock like yours." What a dirty young slut, I still thought. Then I thought nothing more. I was just horny and pushed my excited cock into her tight, juicy, dripping pussy.
The hot girl, who had seduced me and my sister, squeaked fortunately only quietly. I did not want to be disturbed by anyone at all. I drove my piston relentlessly into her pussy, fucking her really hard from behind. After a few more hard thrusts, I said, "I'm going to cum now, Lara!" "Go ahead," she squealed and wiggled her ass. Another huge explosion discharged, which I pumped into her. Several thrusts I peaked into her teen pussy. She endured it and licked her fingers smacking after I pulled my now semi-stiff cock out again.
Irresistibly seduced by my sister's friend
I felt like newborn and could not believe my eyes. Lara sat wide-legged on the stool and grunted at me like a whore: "Come on, get on your knees, you fucking guy, lick my cunt now, but thoroughly, if you please." I did as she commanded. My obsession for her animal scent became boundless….