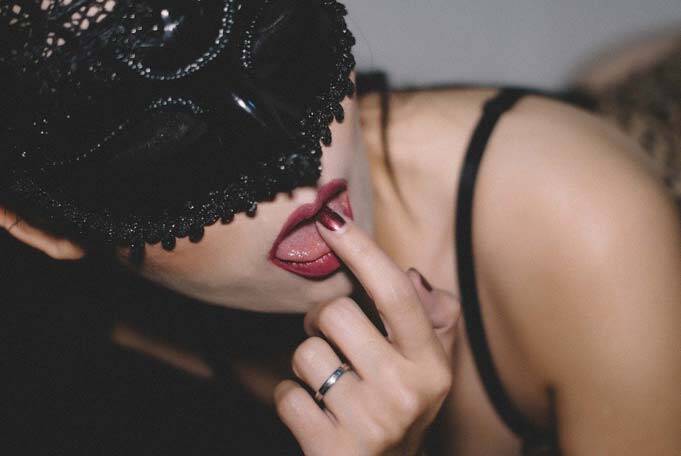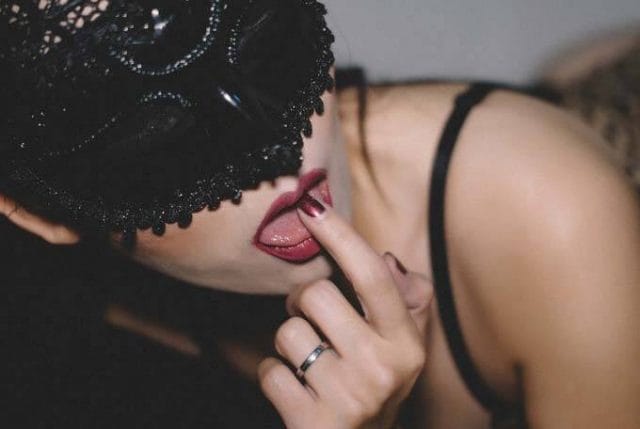 What an evening: Bondage, whips, blowjob!
Needless to say, I had been completely excited. And for two reasons, even though I wasn't thinking about having a stranger's cock in my mouth at the time:
Because I met new people again and
because I didn't know exactly what to expect.
But with my master at my side, everything was not so bad. From the first second I felt comfortable in the unfamiliar surroundings of Eileen and Tom's house – despite my immense excitement.
I enjoyed the beatings and the pain
I was allowed to sit on a blanket in front of the fireplace and wait until the food was ready. My master took me to the terrace to smoke. He pulled up my skirt and started fingering me – and without any problems, because I was already totally wet. The situation, my master and that from inside all three could theoretically see me, heated me up even more. My master took me on the wall of the terrace and I feared to slip. But that was kind of beside the point.
After that I should bend over the railing and present him my ass. I was bent over pretty far forward, so I was afraid of falling. Therefore, I clawed my way everywhere possible. When my master started spanking me, I panicked even more. But I noticed how he held me and he assured me again that nothing would happen to me. That calmed me down immensely, so I was able to enjoy the strokes and pain as well.
In between and before the fantastic meal, we sat together on the couch or Sarah and I on the floor in front of our masters. It was new for me to be so open in front of others, but that's how it should always be, that's how I feel comfortable.
In the old days, I would have been embarrassed to no end…
Since my master was busy with me and Eileen didn't want to disturb us, Sarah was the first to be tied up. It was simply indescribable to watch how the work of art made of ropes was created on Sarah. At the same time, I imagined what it would be like if I were the one lying there right now. Leaning against my master's knee, I watched spellbound as Eileen continued to tie her up.
" Devote Girls in the Livecam.
Seeing bondage like that live was beautiful. After that, Eileen started fisting Sarah. Just watching it excited me immensely; seeing Sarah so helpless and submissive. But her restrained moans also reached my loins. When she came and Eileen untied me again, my nervousness rose again. After all, I didn't know what exactly to expect. When Eileen was finished, she instructed me to undress. In the past I would have been infinitely embarrassed, but through the past few weeks, or rather through my master, I accepted my curves and began to like my body.
He fingered me, all I could think about was his cock in my mouth
Eileen gave me a few more important pointers that made me feel even more like I was in really good hands. As she tied me up, I kept looking deep into my master's eyes and getting lost in them. With each rope I became more helpless and it turned me on mega. Then she pulled my body upwards so that I could no longer stand comfortably on the floor, only on tiptoe.
Since the ropes weren't enough to get me completely off the ground, Eileen secured me with one leg up and so I was standing on the tiptoes of my left foot and my cunt was very spread. My master thus had full access to me. He started fingering me and pulling on my nipple. Unable to avoid him, I surrendered completely to my lust and his until I came – quieter than usual. I was completely on the ropes and enjoying every minute.
After a while the rope on my right leg started to hurt, I think Eileen noticed this and started to untie it. I was still completely hypnotized as the ropes gradually came off my skin. This was definitely my first real bondage and what my former Dominus had done to me at the time was just bumbling in retrospect.
As I sat in front of the fireplace and my master and Eileen were out on the patio, Sarah was whipped and spanked by Tom in front of me. It made me quite horny again to watch, but also wanted to be whipped with pleasure itself. I could see it right in Tom's face how horny it made him.
After the evening my master left me to the free disposal of Eileen and Tom
With a heavy heart, my master then left me with Eileen, Tom and Sarah. After clearing the table, we headed towards the bedroom. I thought I was sleeping with Sarah somehow at first, but I was supposed to sleep with at Eileen's. Well, things don't always turn out the way you think they will, but that's okay! While showering I came down first and relaxed after the exciting evening/day.
When I got to the bed, Eileen wanted me to lick her. I was surprised at first, but somehow I had realized that we weren't just going to fall asleep. So for the first time in my life I licked a woman. Awesome! I was totally focused and wanted to do my thing well. It excited me very much to give her pleasure and with the help of some tips I brought her to orgasm. After that she allowed me to satisfy myself in front of her and so I came. As I did so, I thought of my master's cock in my mouth. At first it was strange for me to satisfy myself in front of someone who was still a relative stranger, but I quickly put aside my inhibitions and came to climax – thinking about the events of the day and also about my master.
After a relatively short and restless night, Sarah and Tom joined us upstairs in bed. Eileen instructed me to lie at Tom's side and suck his cock while Sarah sucked his testicles. Of course I obeyed, went about the task and gave him a blowjob. I didn't like having another cock in my mouth, but it was my job – no arguments. Sarah, meanwhile, licked his balls and tickled them. It was very unusual, but I was so focused that I wasn't really paying attention.
Thank God I Didn't Have To Swallow Tom's Cum
His cock was longer than my master's and when Tom moved my head and stuck it in me further, I gagged. It was too much for my mouth, so to speak. But I wasn't complaining at all. Tom did not squirt as he was too hypersensitive. That way I didn't have to swallow his sperm – yet I still kept his cock in my mouth for a while. Then Eileen allowed me to satisfy myself. So I lay in Tom's arm, Eileen sat by my side, and so I came. Definitely a very strange feeling, but I didn't really think about anything and just let it happen.
We prepared breakfast and did the dishes. My master also joined us at 11 o'clock and so we ate together. It was nice to see him again, but I didn't have time to miss him. Yet, he is always in my thoughts and heart no matter what I do or where I am.
Eileen then took me downstairs for the second real bondage. This time a real suspension bondage, a suspension completely in the air. The atmosphere and the furnishings were a perfect fit. Eileen turned on some music and I took off my clothes. She had a fan heater on so I wouldn't freeze. When she tied me up she put me on a carpet so that my feet were also protected from the cold. These are such little things that give me more confidence and make me feel like I'm in the right hands. I could totally let myself go and enjoyed every other rope, every other knot she tied. She warned me that the pulling up would be painful and I was already imagining pain like a Spanish rider would give me. But I didn't want to drive myself crazy. Therefore, I decided against thinking. I kept my eyes closed in pleasure almost the entire time, just the music and the bondage by Eileen.
I enjoyed it all – the greed, the horniness and my body in bondage
Now the time came to pull myself up and I first looked at myself in the mirror. The greed, the horniness in my eyes and then my strapped body. Simply indescribable. Eileen pulled me up and it hurt, but in a different way. So I hung there, my body getting used to the pain pretty quickly and it just made me horny. All the time I was still thinking about the strange cock in my mouth. I literally lost myself in the music and the pain. It felt like I was floating. Eileen nudged me and so I spun in circles. I can't even put it into words, it was that awesome. At first my legs hung relatively down, but Eileen then pulled them up. This position was simply breathtaking.
" You can do anything with these girls!
The rigger left me hanging like that for some time and I had no sense of time at all. Just enjoyment. As she began to unleash me, I was a little humbled, but I knew my body wouldn't have lasted longer, my mind would. When all the ropes were untied, Eileen caught me and I enjoyed this too, because I had the feeling that she enjoyed it just as much. She told me that I could lie down in bed, as I was also completely cold by now. I watched her roll up the ropes and often looked deep into her eyes. The looks touched me immensely and I just felt comfortable with her.
In conclusion, I can say that this experience was one of the best in my life. Even if it was unusual to lick another woman 's pussy and have a strange cock in her mouth. Finally, horniness won out. About me and my inhibitions.