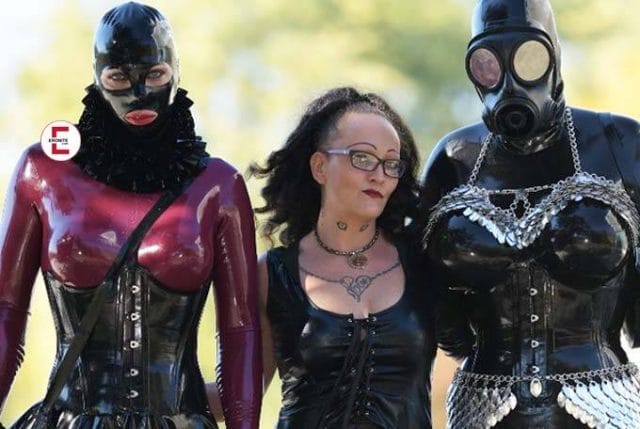 Introduced: the fetish queen lady Nadine Bauer
This like magnetic woman has many faces and numerous facets. Lady Nadine Bauer from Bavaria is known as Queen of Fetish and Domina. She distinguishes herself in various media and impresses with her versatility. If you want to take a look behind the scenes, you will learn interesting facts about the equally dazzling and down-to-earth Queen of Fetish Nadine Bauer and her passion.
---
Eronite empfiehlt dir diese XXX Videos, Livecams & privaten Kontakte:
---
Multifaceted dominance celebrates the Queen of Fetish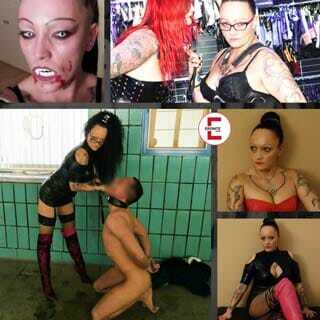 The title Lady fits perfectly to the mature and lively Nadine. She professes to be Dominatrix with passion. She knows only too well that many a guy has to feel her hard hand and follow her orders. The fetish queen Lady Nadine Bauer claims to be a dominatrix in perfection and to celebrate her dominance multifaceted. Potential visitors are lured into her own erotic dominant world by the stylish Queen of Fetish with a special offer. It promises the fulfillment of the most secret desires and bizarre and fetish fantasies. All this happens at the stylishly presented Queen of Fetish discreet and sophisticated, she announces.
Novices, fetishists and slaves alike feel addressed and trust Nadine's experience and sense of responsibility. The mistress with the pronounced sense of tolerance attaches the utmost importance to mutual trust and respectful interaction.
Experience the queen of dark eroticism real and online
Lady Nadine Bauer receives visitors either in her studio or in front of her cam. Submissive servants enjoy according to their individual inclinations the education of the dominatrix up close or in front of the livecam. So her slaves can experience her online to obey her. Nadine Bauer is known for her severity and ruthlessness. No submissive man dares to resist her relentless gaze through her horn-rimmed glasses.
The Queen of Fetish captivates with her eye-catching outfits, sophisticated makeup, tattoos and original accessories. Your name is registered as a label. Because the creative lady also offers jewelry, BDSM accessories and fetish clothes of her own design. As fetish queen Lady Nadine Bauer she presents herself to masked and unmasked slaves in self-designed bodysuits or sharp overknees and sophisticated nylons. If you are curious, you can register on the net and meet Nadine via Livecam. Or look at pictures and videos of the exciting dominatrix. A tip for beginners: try ten minutes of free livecam sex with the mistress! By SMS they can be notified as soon as the fetish queen starts her sexcam.
Queen of Fetish makes provocative appearance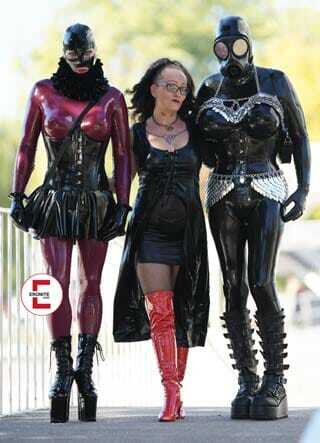 Lady Nadine Bauer is a true professional when it comes to self-promotion. She is present on all social media – no one can get past her who has a penchant for dominance and submission. With her distinctive look and her frank words, she attracts attention everywhere. As relaxed and natural as she appears in personal conversation, as serious and unyielding she stages herself as a respect-inspiring dominatrix. She knows what is expected of her and plays her role masterfully.
Nadine also made a name for herself in an interview with Eronite editor-in-chief Mario Meyer. It was about the collection of her clothes and her special toy "Naddel" (named after Nadine). It is suitable for gentle to rough spanking, depending on the design. Anyone who has ever heard her laugh, which sounds hearty and at the same time a bit dirty, will not forget it. In the Eronite erotic magazine appear every now and then news from and around the fetish queen Lady Nadine Bauer.
It was also exciting and amusing in front of the TV camera in a speech duel that Nadine had with a so-called Christfluencer. These people preach chastity before marriage and other "virtues". The Christian-themed influencers want to convert queer people and believe that sex practices like SM are of the devil. They are of course at exactly the wrong address with a devilish Mistress, who shows herself ice-cold when needed.
Read also: Lady Nadine Bauer: Every month in the star show
The well-known Queen of Fetish is an enthusiastic advocate of boundless erotic freedom. She embodies an offensive form of sexuality herself and does not allow others to set boundaries for her. How far she goes, decides the fetish queen Lady Nadine Bauer all alone. She rejects regulations and appeals that seek to restrict her sexual development. No wonder, then, that the spunky dominatrix had to counter the proselytizing Christfluencer with tough stuff. She even went so far as to ask a higher power of whatever kind for ever new slaves in a "prayer". Complementing this, she professed that she wanted to make them happy by treating them like dirt. It could hardly be clearer!
Details about "Her Royal Highness" Nadine Bauer
She was born under the astrological sign of Cancer in 1980. She has brown eyes, cup size 90 B and is 164 cm tall. The Queen of Fetish changes her hair color as often as she likes. It is sometimes reddish brown, sometimes black, sometimes purple. She sometimes lets it flow as an open mane, also likes to wear her hair braided or curled. In her looks, she relies on a demonic aura, an exciting mix of sex appeal and enchantment with a sinister touch. Lady Nadine Bauer communicates with her visitors in German or English.
The admired Queen of Fetish creates her signature look with her narrow and curved eyebrows, lip liner in dark shades and her thick false eyelashes. Occasionally she can also be seen with a vampire fang, which impressively underlines her diabolical image. Nadine Bauer's face with its prominent cheekbones and high forehead is as memorable as her voice.
No wonder it is such a strong personality appeals to many people. Lady Nadine Bauer has long since made a name for herself as a fetish queen. She is given credit for her appearance and various activities. She is known as cam girl, tattoo model and erotic actress. She doesn't hide her cell phone number bashfully, but rather she is into contacts and inquiries. She finally wants to live out her talent as a dominatrix with her slaves, who worship her like a queen as Queen of Fetish. The fact that there is usually also a little fear involved is simply part of this area of eroticism.
Read also: Why femdom (female dominance) is unnatural
In a decollete leather dress and red thigh-high boots fetish queen Lady Nadine Bauer looks as hot as in a harness of leather and metal. She wears black because this is the color of the Dominas. A whole range of meanings are attributed to black, for example, authority and discipline, as well as magic and esotericism. It is also associated with the unknown and the hidden. A lady in black outfit symbolizes strength and aloofness. For these qualities submissive slaves worship the Queen of Fetish. They stand on her charisma and on her body and long for the humiliation by her fetish queen lady Nadine Bauer.
The other face of the lady Nadine Bauer
If the dominatrix shows herself more privately, she looks like a not so extreme middle-aged woman. With her boyfriend, who is 14 years younger, she appears cheerful and self-confident. She reports that she also likes to let herself go. And her lover confirms that he considers her activity as a dominatrix like a job. The two reportedly spend the end of the day together. As a couple, the two come across as pretty relaxed, laughing a lot and hinting at the intimacy that exists between them.
In the already mentioned Eronite interview, Nadine Bauer, esteemed as the Queen of Fetish, does not behave in a bossy way at all, but in a friendly and obliging manner. She points out her other sources of income and is pleased that the links may be published. Without further ado, she tells why she lets herself be seen at sex fairs and other events. It is fun to experience the Queen of Fetish also once as a sympathetic private person and businesswoman.
If you feel like a fan of this captivating personality, you will be interested in all aspects of the life of the fetish queen Lady Nadine Bauer. It can be assumed that she will continue to come up with creative ideas. Since she gives the mistress out of passion both in the studio and in front of the livecam, she is also available to both old and new slaves in the future. It only remains to wish the Queen of Fetish that she remains healthy and energetic to fulfill her numerous tasks.