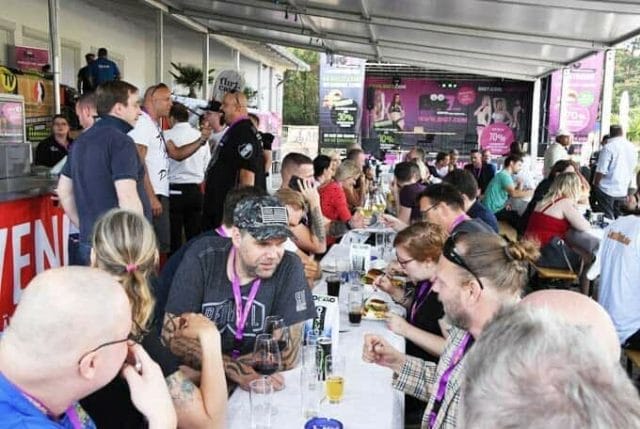 The second event of its kind in Mainhausen: the Frankfurt Summit 2019
It is well known that it can sometimes get cold in Germany, even at the height of summer. That it can get wet as well. But for the two to come together is chalked up to bad luck in an August. This is what happened at the Frankfurt Summit 2019 in Mainhausen, when the sky could not keep its floodgates closed on the Saturday of the event.
---
Eronite empfiehlt dir diese XXX Videos, Livecams & privaten Kontakte:
---
First the siesta, then into the shuttle
Our team ended up with – yes! – sunny weather at Frankfurt airport on Friday morning, was picked up there by flirt.cash colleagues and taken to Summit 2019. But first we went to Seligenstadt, where the hotel was booked. A small but very fine place near the notorious big city. After checking into the rooms and having a little siesta, we took the shuttle over to the venue.
Detlef and Walter, the two organizers of the Frankfurt Summit 2019, had once again done a great job: everything was in place, drinks and food were brought out. Without further ado, the name badges were collected. This was followed by the greetings of the participants already present. We know each other. And that for more than 13 years by now. It's like a "class reunion followed by a barbecue" we often use to say. Every year, a few new faces mingle with the old familiar ones. So also this time.
Another Enzo at the Frankfurt Summit 2019?
It remains exciting! Last year, there was a little upstart named Enzo who at first wanted to shake up the industry, but then rather amused it. In hindsight, Enzo was even exposed as a brazen liar and imposter. A little fact checking proved: a lot of hot air, not only nothing behind it, but nothing at all.
And did someone with the infamous "Enzo gene" stand out again at Frankfurt Summit 2019? Our research network is already running at full speed. We are curious to see whether this person will turn out to be an air act or will be able to come up with serious business conduct. More on this soon at Eronite. Same place, same wave.
By the way, no one has ever heard of the self-made man Enzo. Now it's time to finally put a check mark on the little Italian. Even though it was more than fun for a while.
Cooperation, business and a whole lot of chitchat.
Of course, there was also serious chatting and netting. One piece of news should already be revealed today: The English- and Spanish-language editions of Eronite (www.eronite.uk and www.eronite.es, respectively) will soon be populated with content better tailored to the respective markets in order to reach audiences in other countries as well. This is an expansion that was envisaged a few years ago but has only now been implemented.
Otherwise, people could be seen everywhere, engrossed in their business discussions, listening intently to the respective counterpart and also presenting their own concerns accordingly. It was a relaxed togetherness, the fun was in the foreground. There were no business lounges, booths, or excessive advertising. Thumbs up!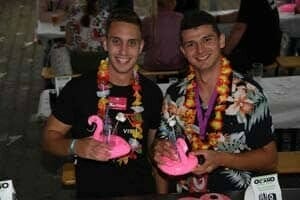 Who was there, anyway? Sure, the teams of the big affiliate programs (CashDorado, Big7, flirt.cash, dating partner, cashalizer and visit-x), some photographers, a text agency, model scouts, stars and starlets like the amateur girls Mia Bitch, Gymbunny and Pina Deluxe, Pornstar Lena Nitro or US Export Texas Patti as well as the Eronite team and lots of representatives of an interesting industry, including not only webmasters and affiliate marketers, but also a management consultant or two. And what wasn't there? Whereas last year the live band made it almost impossible to talk at this late hour, this time the canned music was much more leisurely, which was closer to the actual purpose of the event.
What remains of the Frankfurt Summit 2019?
The idea and the promise to the organizers that next year the Eronite will join the ranks of the sponsors of the social gathering in Central Hesse. The Frankfurt Summit 2020 deserves support, because it is a gathering of the (German) erotic industry that seamlessly continues the old tradition when the "old hands" of the industry met with the newcomers from 2006 to 2015 in Suderbruch, Lower Saxony. For an entrance fee of 45 Euro (for both days) there was (extremely tasty!) food from the grill and drinks of all kinds. To make sure it stays that way and everyone can afford it, there will be a four-figure Eronite sponsorship next year – I promise!
All in all, the Frankfurt Summit 2019 was another good new edition of an industry meeting in Germany. The organizers Detlef and Walter deserve great praise once again. We can imagine that such an event required a lot of sweat and work from them. Many thanks for this!
Fotos der Frankfurt Summit 2019