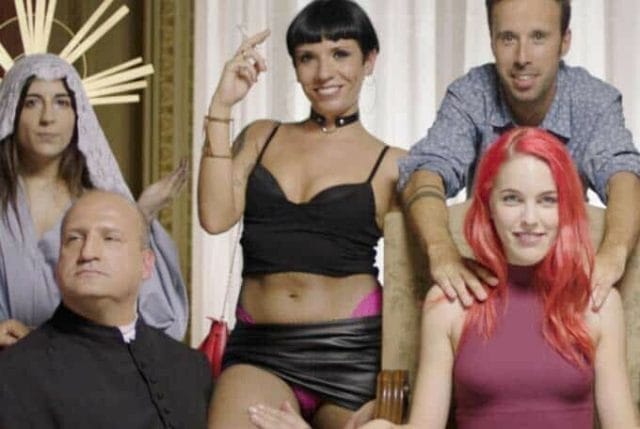 Spectacular, frivolous and simply incredibly erotic
This year, from October 3 to 6, the Erotic Fair Salón Erótico will take place in Barcelona, Catalonia (Spain). Tickets are already available. If you order your ticket at an early stage, you will receive a discount of up to 20 percent and can save money. What exactly does the Salón Erótico fair offer and what can visitors expect there? This preliminary report provides information on this:
---
Eronite empfiehlt dir diese XXX Videos, Livecams & privaten Kontakte:
---
The new Salón Erótico in Barcelona is revolutionary!
The organisers of the Salón Erótico trade fair welcome interested parties and visitors to the revolution, as this year the fair is being held on a new site. It's even more diverse, inclusive, women-friendly, respectful, fun, and open to all kinds of erotica. And as always, she also shows herself to be completely free-spirited. This has been taken care of by a familiar face who is not only familiar, but who is not content to wait for the future. It wants to shape the future itself. This is Carles Valdés, a filmmaker from Barcelona itself. He has helped many people fall in love with erotic Barcelona with his videos.
For the first time in this context, he will be co-director with Juli Simón at Salón Erótico. Both will ensure that the 2019 show will be the biggest experience in the erotic world.
By the way, the physical well-being is also taken care of. Outside the fair are several food trucks offering a wide range of dishes. Vegan food is also available, so visitors won't know where to try first.
The erotic boulevard on the premises
On the erotic boulevard of the Salón Erótico, visitors have the opportunity to play, laugh, touch, enjoy and get advice. The various stands in Barcelona offer the opportunity to do this at any time. Represented there are sex shops, but also sex experts who are available with good tips to the side. In addition to photography, technology and literature, the fair will also offer lingerie and cosmetics, which guests can test at any time.
Who will moderate the fair?
Noemi Casquet is the best choice as accompanying presenter of the Salón Erótico fair. The lady is not only a journalist and writer, but also a restless activist. She studies her own sexuality as constantly as she studies other people's.
Noemi Casquet provides information on all imaginable forms of relationships, from normal to widespread with better communication skills. That's why she's the best presenter to explain the novelties at the Salón Erótico fair in Barcelona. It gives it a modern, fresh and feminist vision for the future to come.
The program of the Salón Erótico on October 3
The programme of the Salón Erótico is particularly varied. On October 3, we'll kick things off at 4:30 p.m. with "Is it a Healthy Relationship?" Half an hour later, interested parties can then take a look around the Swinger Zone. At 6:00 p.m., there will be a lecture on the swinger world. Here visitors can participate in groups and ask questions about swinging and have them answered.
At the same time there will be a lecture on tantric eroticism and ecstasy at 6 pm. There will be another lecture between 6.15 and 6.30 pm. Then it is called to be taught about how the partner is treated with love.
Program excerpts from the 4. and October 5
At 4. and 5 October there will also be various lectures at the Salón Erótico. For example, it explains how to escape the daily routine or informs about sex mirrors. A psychological lecture clarifies how important it is for both partners to maintain their individuality within the relationship. Questions about swinging will also be answered on this day of the fair. With this in mind, a book is also presented that deals with this.
On October 5, it's all about demystifying sexual taboos or making your own desires real, among other things. Guests will learn how this works in these lectures. Those who are interested in erotic massages will also learn about the different techniques. BDSM fans will also get their money's worth at Salón Erótico on October 5.
Program on October 6 and last day of the Salón Erótico
On the last day of the fair, there will be lectures on the amazing differences between sex and eroticism, and on the magic of staying true to yourself.