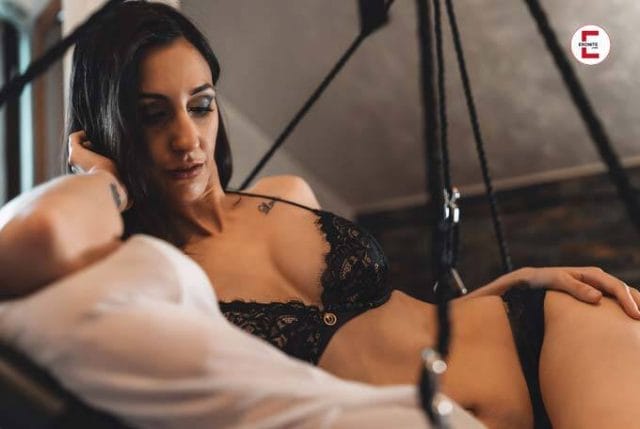 Predatory cats play with their victims, but they do not eat them
Lia Leone (formerly also Lia Lion) calls herself the Capital Lioness. Anyone who has already met the perky brunette with the fawn eyes knows that this description is extremely apt. Because the Berlin model with the 70D bust is not only an absolute feast for the eyes. Above all, it has one thing: bite.
---
Eronite empfiehlt dir diese XXX Videos, Livecams & privaten Kontakte:
---
Lia Leone captivates with erotic diversity
The Berliner is not only pretty as a picture, but also creative. For example, she can be seen not only as a model or webcam girl, but also as an erotic actress. In her spare time, she writes poetry and enjoys baking. If you want to see Lia Leone naked, you should definitely visit her webcam chat. Of course, Lia Leone porn is also a very nice opportunity to watch the horny brunette playing sexy games. And there are now plenty of these gimmicks. If you follow the profile of the capital lioness carefully, you will constantly discover new Lia Leone porn. So fans should definitely visit Lia Löwinnenherz's profile regularly.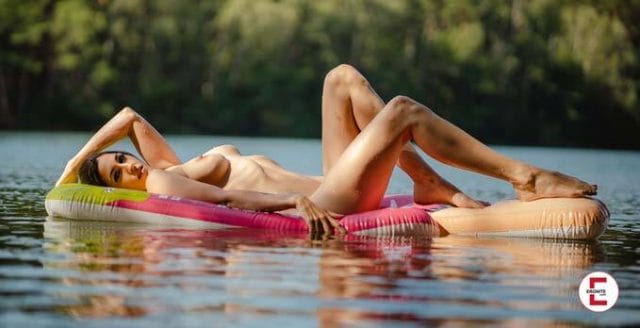 Her outfit is also versatile, which makes the actress extremely changeable. Whether in a serious costume or a wicked outfit of a man-eater: Lia Leone always cuts a first-class figure, naked as well as dressed. Especially when it comes to choosing the right clothes for the occasion or the film set, Lia shows a sure hand. Slipping into different roles again and again and acting them out seems to be in her blood. So is the sex appeal.
The shows of all shows
As changeable as Lia Leone is in her porn, as different are the sessions in front of her webcam. If you have an idea for a role play, the camgirl is the right place for you. Here the perky brunette is spurred on twice. On the one hand, of course, she wants to give her guest an absolutely unforgettable and especially horny experience. And on the other hand, LiaLeone also perfects her acting skills on such occasions, which ultimately benefits not only herself but also her fans.
Dominant to submissive games are here as well as extensive and detailed dirty talk. Lia can slip into just about any role. Even if she can't play a role right off the bat, this natural talent can pick it up in no time. When she gives full throttle, and she always does, no one can stop her. To be honest, no one wants that either, especially not a man.
We are very pleased that we had the capital city lioness in the exclusive interview and her some questions on various topics, private as well as professional, duften. She doesn't hide anything and also reveals some intimate details:
The great exclusive interview with Lia Leone
Eronite – The Erotic Magazine Lia Leone, we are very happy to welcome you to the big exclusive interview at Eronite. Right at the beginning, would you like to tell us something about why you call yourself "The Capital Lioness" and let yourself be called like that? That's quite an impressive attribute, which certainly raises expectations.
Camgirl Lia Leone I call myself The Capital Lioness, because my home is Berlin and I have chosen the lion as my animal and symbol. For me, he stands for strength as an alpha dog. I have a great presence and I enjoy it to the fullest!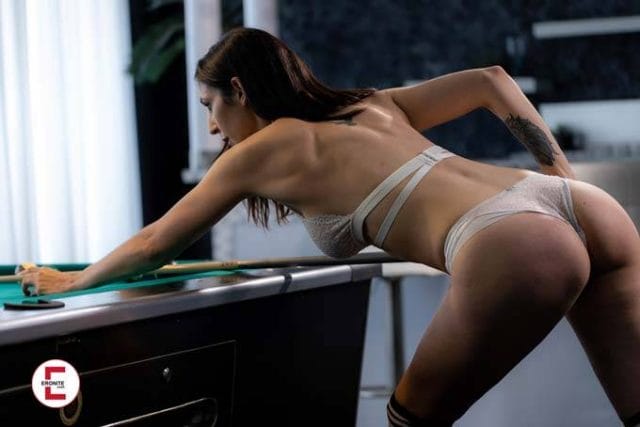 Eronite From which region of Germany are you originally from and since when do you live in Berlin? Do you want to stay in the capital, or do you already have plans to move?
Lia Leone I was born in Berlin, but moved to Brandenburg a year ago because city life was too stressful and annoying for me. I like to enjoy the peace and quiet in the outskirts of Berlin.
Eronite You are a beautiful tall and slender woman. I'm sure you have a lot of fans. Do you connect with them frequently on social media or on your own site?
Lia Leone I try to make time for as many fans as possible. Of course, my users are prioritized. I still check social media every day and reply to some.
| STECKBRIEF | Lia Leone |
| --- | --- |
| Fotos & Videos | Mein Profil |
| Wohnort | Berlin |
| Geburtsdatum | 28. Januar 1993 |
| Sternzeichen | Wassermann |
| Körpergröße | 178 cm |
| Gewicht | 60 kg |
| BH-Größe | 70 D |
| Intimrasiert | Hollywood Cut |
| Haarlänge | Lang |
| Hobbys | Schreiben, backen, kochen, zeichnen |
| Lieblingsfilm | Marvell-Filme |
| Lieblingsserie | Death Note |
| Das mag ich | Gutes Essen, Zeit und Harmonie |
| Das mag ich nicht | Stress, Unpünktlichkeit und schlechtes Essen |
"I make my users' fantasies come true".
Eronite Every day you are present in your webcam. A wide variety of men are likely to show up in your webcam chats. Are there any among them who visit you more often? Are you more excited about regular visits or are you more into variety and new acquaintances?
Lia Leone I like to maintain long-lasting relationships with my fans. In my opinion, you develop together and only then it becomes really cool. An ONS (also in the cam) can be horny, but an interplay of trust and devotion makes the joint fun even better!
Eronite You appear in very different ways. Your fans can visit you in camchat or watch your latest video. Do you actually have more fun with the webcam or with your porn shoots?
Lia Leone I am mainly a webcam girl! I simply enjoy the direct contact with the user the most. I even have live meetings with users who are then allowed to watch me on cam, for example. I enjoy the greedy looks and the desire for more. I like to play with fire and let people dream about me. For me, shooting is more a kind of art in which I try to make fantasies come true. But not only mine! I make almost only customervideos, to let also the fantasies of my users become real.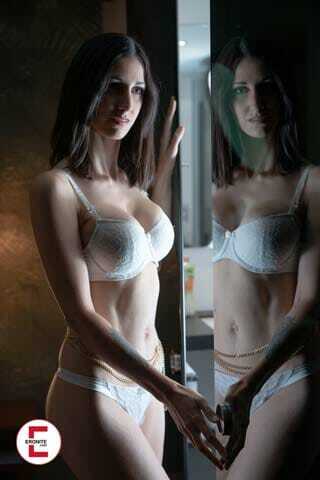 Eronite What criteria do you use to select partners for your films? What qualities should they bring to the table?
Lia Leone For user turns, I also only take real users that I know from my cam. Because those are the most deserving for me then. Mainly it should just be fun and that for both parties. The tail size is rather unimportant, because you can turn something with each tail. The beauty is being able to personalize each film.
Eronite What was it like for you to have sex on camera for the very first time? Did you feel embarrassed or completely free?
Lia Leone Since I am a very open and active person, I have never had any problems with this. I love the attention and enjoy life on stage and in front of the camera.
Eronite According to what criteria do you choose the locations for your sex videos? Do you like shooting outdoors? What turns you on in particular?
Lia Leone I choose my locations based on attractiveness and functionality. Finding the perfect location is not always easy and often takes time. But good things come to those who wait.
Eronite What are users most into, how do they want to see and experience "their" Lia Leone?
Lia Leone The users appreciate my permanent horniness very much! Five to ten orgasms a day are not uncommon for me. For this I am always open and friendly and try not to delay any time. The fans are very important to me and I show them that as well as I can!
Eronite How do you come up with the ideas for your films? Do you work them out systematically or do you implement spontaneous ideas? How much does your daily form affect that? What has changed for you over time? Do you dare to do more today than you used to?
Lia Leone Horny wet dreams that I then try to realize. I have a lot of imagination and I like to use it! The shape of my day also affects the way I work. But I think it's also partly normal. In an emergency, I just take a break for a day or two. I dare to speak my mind more, yes, but I haven't really changed much.
"I want my fans to enjoy my movies and cum nicely".
Eronite And where are the boundaries for you that you don't cross? Are there challenges you still want to overcome? Do you only go by your own preferences? Or are you deliberately catering to the inclinations of some fans? Please answer these questions in quite some detail.
Lia Leone I think everyone has their limits! These are important and should be adhered to and adhered to. I personally don't like hardcore SM or golden shower and caviar, but would still do the last two for my fans. Of course, my personal preferences also flow into my actions and videos! Nevertheless, I like to comply with the wishes of my fans and try to combine both as well as possible. Both my fans and I should enjoy my movies with a smile and a horny cum! I am very open and always try out new things. So I like to fulfill the craziest wishes of my fans and sometimes I even realize how much fun I have doing it.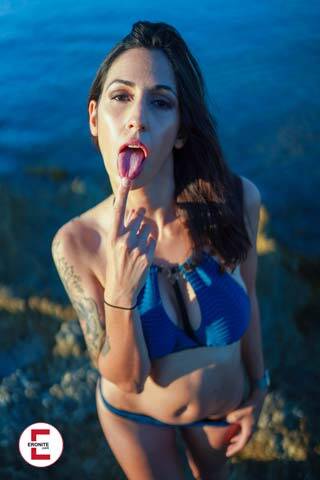 Eronite Do you watch movies of your female colleagues often? Do you have a colleague that you particularly like?
Lia Leone No. I watch my own movies – while cutting and editing.
Eronite Do plans exist for how long you will continue as you are now or similar?
Lia Leone Till death do me part or my vagina kill me. So no! I enjoy my life in the here and now.
Eronite Please tell us, where are the differences between professional sex and your private eroticism? Are there things you would never do in front of the camera?
Lia Leone Funnily enough, it's quite different for me. I live out in front of my camera what I would never dare to do in private! Lia is a strong personality who enjoys her life. Privately I am relatively reserved, but still quite a wild beast. I enjoy my orgasms and fun in bed.
Eronite Let's look back a few years. You are a trained physiotherapist. When did you first think about getting into the porn business? Were you discovered, or did you start on your own initiative?
Lia Leone It was 2018. Beginning of the year. I was approached by a dubious and so-called manager, whereupon I signed up and the journey began. However, I only decided to do it because an ex-boyfriend had suggested it to me before and I had rejected it at first. I always say that if something comes twice in life, you have to at least try it.
Eronite Did you have to emancipate yourself from your parents' house, or were you already standing on your own two feet? Were you a precocious teenager? When did you have your first erotic experience?
Lia Leone I already lived in my apartment and was or am completely independent of others. That has always been important to me. I was certainly not a precocious teenager and had my first sexual experiences very late. But I don't see this as a disadvantage, I enjoyed my childhood and youth! And every child should. These far too early sexualizations and innuendos only destroy the fanciful and wholesome children's worlds.
"I didn't see my first porn until I was 25".
Eronite How old were you when you saw your very first porn movie? Can you still remember the sensations you had while watching and afterwards? Were you alone or in company when you did this?
Lia Leone That was when I was about 25. I just wanted to see how a colleague works. It was more for continuing education and nothing else. Porn doesn't interest me per se. I'm all about the art, quality and passion in my films. I always try to optimize these.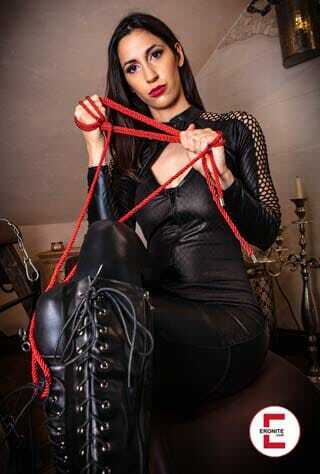 Eronite You emphasize that your independence is important to you. Have you ever been part of a team?
Lia Leone As a physical therapist, I have always worked as part of a team. As a team with colleagues and also doctors as well as the patients. Otherwise, if I reflect it to today, yes. I have my own agency for women who want to get into business. The team is great and I like to appreciate it. Because alone you are strong, together stronger!
Eronite Lia Leone, you have your very own way of presenting yourself online – revealing and always a bit challenging and a bit cheeky. It's in line with your individual personality, it doesn't matter, does it?
Lia Leone Somewhere Lia is always a role, an art figure. But of course driven by the real personality deep inside me. I would be lying if I didn't say that I have a loose mouth by nature and like to provoke. That I love to talk about sex and all that goes with it. Art figure and real person are one. It simply belongs together like pitch and brimstone. Each benefits a little from the other.
Eronite There are always new sharp photos of you. You present yourself in seductive poses, especially on your uncensored profile. Do users contact you more often and want to see more of you?
Lia Leone Sure some contact me, want more than pictures. Whether videos, cam sex or live meetings. It is the daily bread to go through and process all these messages. But that's just fine the way it is, otherwise I would soon have nothing to do and a lot of boredom!
Eronite What do you hope to give your fans besides erotic stimulation? Do you like fans to be affectionate and comment on your activities?
Lia Leone I am like the best buddy, friend and a good companion in one for my fans. Having fun together is important, no question about it. But being there in bad times is more important. You can always rely on me, even if I sometimes have little time. I always try to be there for those who need and want me.
"During Corona, I had a great parenting time".
Eronite You also have a sedcard as a model. What areas have you modeled in so far? Do you want to continue to intensify these activities? Besides modeling, you have also been active as an actress. How about that, do you want to expand on that part of your job?
Lia Leone I still work as a model and will always do so again! It makes everyday life look more attractive and variety is always good. That way, you don't get jaded and still have an eye for the big picture. Porn Actress was also always a nice thing, but not commercially rewarding currently. However, if another good offer comes along, I'm not averse to it.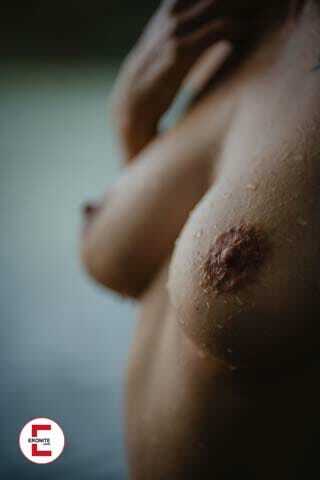 Eronite Did the Corona pandemic limit you much from any aspect?
Lia Leone Not really. During the pandemic, I had parental leave and enjoyed the time with my baby.
Eronite Would you like to tell us something about your private life? Are you living in a relationship? Are you a mother?
Lia Leone I think I like to keep my private life private. But yes, I have two wonderful children and a great cat. I love all three of them very much.
Eronite What's your favorite way to relax? How do we imagine a relax day at Lia Leone?
Lia Leone Netlfix and chill? No matter how stressed I am, when someone takes me in their arms and caresses me, all worries are forgotten. I enjoy it when someone is my calming influence. Just lie in bed together and let the time pass. Preferably with a good movie and a thick cuddly blanket. Otherwise, baking and drawing also always relaxes me a lot.
Eronite Do you like to travel? And what are your favorite travel destinations? Do you sometimes travel alone or do you prefer to be accompanied?
Lia Leone I love to travel when my time and family allow. Preferably with people I like, with whom I can enjoy life and everyday life fades away for a few days.
Eronite Do you have cultural and political interests?
Lia Leone No.
"I have my own closet especially for role-playing".
Eronite How important is your appearance to you? Do you also like fashion and make-up as a private person? Do you exercise regularly to keep your great figure?
Lia Leone Appearance is very important to me. Mine and my future partner's. The eye eats with you, as the saying goes. I myself love to store, love make up and also invest a lot of money and time in it, but because it is also part of my job. Privately, I like to run around without makeup, but always well-groomed. As a busy working mom of two, I don't have much time for sports at the moment. Sometimes you just have to set priorities.
Eronite What kind of lingerie do you prefer to present yourself in? Do you also have now and then Bock on fetish outfits?
Lia Leone I am a very open person who likes to try things out. I love nylons and suspenders, but also wetlook and latex. I would describe my style as sexy-provocative. Little fabric and always a lot to see. I love costumes too! Especially for role-playing games I have a whole closet full of sexy costumes.
Eronite A few more questions about current events. What do you think about the current discussions concerning the relationship between men and women? How important is acceptance towards queer people to you? And how do you feel about same-sex activity?
Lia Leone The question is very mean. To be honest, I haven't thought about it until now. I will also not great. Everyone should be as he wants, should have the freedom to love whom he wants. All these fashionable names and euphemisms for topics that have been with us forever. I know why I don't watch the news and take care of what's important to me – my family. I accept all kinds of people as long as they are not malicious and I think it's great if you stand by your dreams and yourself.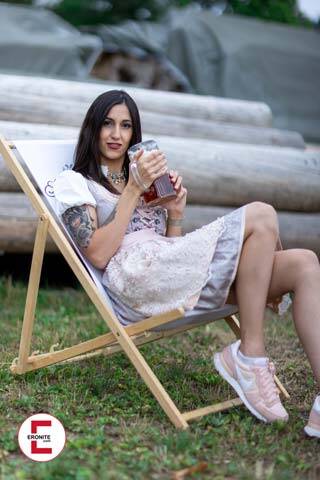 Eronite For the next Venus fair in Berlin, which will take place in October, a real scoop has been announced: You and Tamy Love will lick the cream-sprayed breasts of newcomer Xisca Bond. How is it then to this event on 22.10. come?
Lia Leone Na whether it stays only with the cream remains to be seen. I was looking for girls for a stage show, I know Tamy for a long time and I like her very much. Xisca was suggested to me by an acquaintance. I just asked them directly and got a YES.
Eronite You and Tamy are already very experienced in the erotic industry. Xisca, on the other hand, has only been around for a few months. She will show her face for the first time in Berlin. So far, we only know their curves. But she already has more than half a million followers on Instagram. How do you feel about becoming known in this way?
Lia Leone What do I think about it? Instagram? Notoriety? Not much. It is a world full of deception and appearances. Everyone is just trying to present themselves perfectly and embellish real life. It's part of our job and it's fine – but I don't think much of it. What counts is real life, what counts are the people who really stand behind you. I have my most important fans stored in my cell phone and I can call them whenever I need them. However, it must also be said that social media in general is a lot of work and it's all the nicer to be rewarded by your fans with likes, comments or follows. There are days when I love social media and there are days when I hate it. It's just a little love-hate relationship. You simply can't do without it. Not in this business.
Eronite Can we look forward to a really hot lesbian show on the stage of visit-x at the Venus fair?
Lia Leone I hope not only for a horny lesbian show! With me it is currently three firmly scheduled shows at the visit-x booth and otherwise I will jerk off as usual throughout the fair, if I feel like it. (Lia laughs out loud)
Eronite Of course, you're not telling us what surprises the three of you have planned. Just this much: Will there be any at all? And do you generally like erotic activities with other girls? Does that turn you on?
Lia Leone To be honest, I didn't plan much. I never do that! The stage show is art to me and as a teacher once said, "Improvisation is the best way to show what you've got." I live very well according to this principle. I prove to myself every day what I can do. Just do it – don't think. Simply feel and act. That's how I live it at the show and that's what my fans love me for.
Hot lesbian threesome with Xisca Bond and Tamy Love
Eronite You and Tamy embody very different types of women. Surely you will emphasize that in your show with Xisca Bond? What can your fans be particularly excited about?
Lia Leone I think that all three of us are very different. But that's what makes it interesting and exciting. I'm looking forward to getting to know Xisca privately backstage for the time being and then we'll see.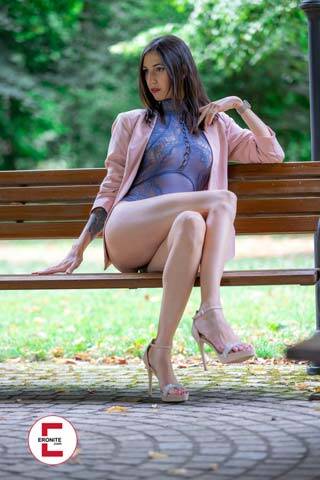 Eronite Do you enjoy helping to get Xisca off to a great start in front of an audience? After all, it will attract a lot of attention. Do you think the young Saxon has a successful future ahead of her?
Lia Leone Of course I enjoy it. I enjoy working with new people and do so often. These usually still have the energy and verve that I love. These are looking forward to shows and are quite excited. I always like to help there and guide them a little. Also with Xisca I think I will get to know a good and interesting person and I think that not only she will attract a lot of attention, but we as a team. Our show is what will ultimately determine how much attention will come and I'm convinced that together we will blow everyone away. And whether she has a successful future ahead of her is entirely up to her. On her and her will to achieve something!
Eronite Have you been present at the Venus fair in Berlin before or more often? Was it worth it for you?
Lia Leone In 2018 and 2019, I have already been to Venus. Whether it was worth it? It is for me! I meet many fans who mean a lot to me. I can embrace them and welcome them. That is worth more than any euro in the cam!
Eronite One final question: What would be your greatest wish, apart from your professional commitment? Or put another way: What is the most important thing in life for you?
Lia Leone The most important thing in life? That my children are happy and have a secure future. Unfortunately, life will never be carefree – but I will do everything I can to put a smile on their faces. No matter what shitty situation they are in.
The capital lady as a magnet for submissive men
The name just cries out for a distinctly dominant personality. Lia Leone describes herself as a strong and confident person who doesn't like to be left behind. In addition, the sexy brunette is a trained physiotherapist, which makes her a very sensitive play partner, especially in the soft BDSM area.

Read also:
– Successfully earn money with erotic affiliate marketing
– She fingered herself in the car while I….
– He fucked me while I was on the phone with my mom
– Social fuck: More and more Hartz4 Muttis fuck for pocket money
– Mia Julia Hardcore Porn: Pussy Blasted In Her Sex Videos
Especially for things like mindfuck or an erotic hypnosis, the sexy Berlin girl is predestined with this training. You want to kneel down before this tomboy while she whispers phrases like "Imagine Lia Leone naked" in your ear. Followed by "I am your mistress, obey me!".
Berlin, Berlin, we come from Berlin
Germany's capital city has its very own flair. Especially when it comes to eroticism. It's not for nothing that Venus takes place in Berlin every year. In this context, the term capital lioness seems even more appropriate. As a self-confident queen of webcam girls and erotic actresses it lives well. And horny – which can be admired again and again in their little films. This solidifies her reputation as the mistress of her profession and increases her fan base many times over.
Is it really the major sporting events or the concerts of some megastars? Or is it because of sweet Lia that all eyes regularly look to Berlin?
Lia Leone must be experienced
Acting talent paired with a picture-perfect face and model dream dimensions. This is the short description of the sexy brunette, which should immediately make every lover of eroticism sit up and take notice. It is worth taking a first look and contacting us later. Because once you get involved in the game with the lioness, you become addicted and a repeat offender. It is too beautiful in the clutches of the capital lioness. Who knows, maybe it is possible to make them purr. Important detail: predatory cats play extensively with their victims, but they do not eat them.