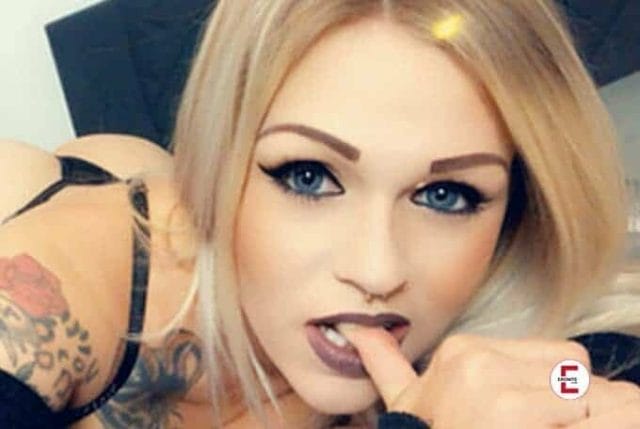 Kedi was young and offered herself to me as a sex slave
I met Kedi when she had just turned 15. She trained as a hotel manageress in the company. She approached me and asked to be accepted as a slave in my dominion. Although she was still so young, you could already tell that there was a beautiful girl growing up here.
---
Eronite empfiehlt dir diese XXX Videos, Livecams & privaten Kontakte:
---
»
to the profile of slave Kedi

I told her to get back to me when she was 18 years old. I hadn't counted on her tenacity. And so she made me promise to make her my slave when she came of age. At the time, I thought it was a misguided reverie of a teenager. Today I know that Kedi always says what she means and wants.
Just in time for her coming of age, she showed up on the doorstep
At 7:00 in the evening, my doorbell rang. My housekeeper opened. "Hello, I'm Kedi and I'm here to begin my apprenticeship with the Lord," she said cheerfully. My housekeeper was very puzzled, but invited her in and informed me.
When I came down and saw Kedi sitting on the sofa, I recognized her immediately. And abruptly it occurred to me that in a weak moment I had made perhaps the worst mistake of my life.
She stood up, walked over to me and shook my hand. "Hello, Mr. Dirk. Three years ago you promised that I could train as a slave with you when I was eighteen. Well, yesterday was my birthday. And now I want to serve with you".
At first I was flabbergasted by so much self-confidence. In front of me stood an 18 year old teenage beauty who desperately wanted to be trained by me as a boy slave. She was 5'7″, had a very pretty face framed by shoulder length blonde hair, and had a slim figure and long legs. Her skin tight jeans accentuated her small round firm bottom. I love a tight little ass. And even though she was wearing a loose sweater, you could guess that her breasts were firm and plump. All pluses for a prospective slave.
I suddenly had less and less doubt
She had prepared well for the meeting with me and created an application portfolio. It said she was still a virgin, but had already practiced blowing and licking with dildos and vibrators. She had also pleasured herself more often, but without reaching orgasm. After all, she wanted to achieve her first orgasm through me, her master. She also pierced her hymen herself so that I would not have to perform this inconvenience. My doubts were diminishing, so I got the contracts and we both signed – with my maid and two other maids as witnesses. After that, I offered them to the table and we had dinner together.
Night was falling and it was time to go to bed. I still couldn't believe that I was about to fuck a new slave, a virgin at that. I went into the bathroom and showered, brushed my teeth, and did a few more things to get ready. For me, that includes masturbating. After all, you want to shine with stamina in front of a new slave and not cum too early at the first fuck.
Kedi was made to look her best by the two maids. First bathed, then hair done, finally rubbed with fragrant oils and subtle makeup applied. So she was waiting for me in my bedroom with the big double bed, which had enough space to let off steam in.
A blonde angel tried to seduce me
When I entered the bedroom, wrapped in my robe, the light was dim. Kedi was standing in front of the bed in a silky dressing gown, waiting for me. I just thought a blonde angel had flown into my bedroom to seduce me. Because that's what she looked like – like an angel.
I approached her and asked, "Kedi, are you quite sure you want to take this step?"
"Yes my lord, I am. I've been longing for this for so long. And after all, you promised me."
"I've always kept my promises," I countered, taking her delicate hands in mine and kissing them. Slowly, I unfastened the belt of her robe and let it slide to the floor. What then came to light left me speechless. I expected her to be wearing a bra and panties, but she was completely naked. I let my hand rest on her shoulder and slowly circled her. She looked even better than I thought she would. I had already guessed her figure, the long legs and the tight butt. But her perfect breasts did the rest for me. They were lush, but not overly so. Tight and firm. Just perfect.
I felt my cock slowly begin to grow as my hands touched her wonderful soft skin. My hands caressed her shapely breasts with very light touches. As if this beautiful creature in front of me was an illusion and I would destroy it if I only gripped harder. Her nipples, however, immediately stiffened and straightened. Then my hand slid across her stomach slowly down to her pubic area. She had shaved her pubic hair again especially for this night and so her vagina looked fresh and rosy. Her labia were close together and her slit was not yet wide open. I believed her now that she was still a virgin.
Slowly, my hand caressed her pussy, barely touching it, while I used my other hand to guide her head to mine and my lips gently to hers. Our first kiss. Although he was gentle like a couple in love, he almost knocked me over. It was all up with me. I wanted that young woman. I wanted her as my slave. In that moment all remaining doubts were wiped away.
Kedi was delighted – and I was crazy about her
"Do you like me?" a soft voice asked me. "You are as beautiful as an angel," I replied."My angel."
And again, something unexpected followed. She knelt down, opened my robe and groped for my cock. As she held my sack in her hands, she stroked and massaged it. All I could do was stand there with my eyes closed. Then she took my cock in her hand, which had already grown a lot, and rubbed it. I'm sure Kedi has never held a dick before, much less one with my size and girth. I used to be ashamed of it, but now I know about the quality of my penis and I'm really grateful to be so endowed.
Actually, I thought Kedi was afraid of my cock because it was so big, but I guess her training with the dildos was more intense than I thought. "My master has a nice big thick long cock, I like it a lot," she fluted with delight. "Please remove your robe so I can take my oath". "What oath?", I asked, puzzled. "The oath to be your slave and serve you, my lord," she replied in exactly the same sweet voice as before.
She had really prepared herself and memorized the oath of the slave girls. And she was willing to afford and fulfill it for me.
And so I too finally took off my bathrobe and stood naked in front of her.
Kneeling before me, jerking my cock in her hand, was a sweet virgin ready to give me all she had to offer. "My master is very well built and has a beautiful body". "Not as wonderful a body as you, beautiful," I replied, slightly embarrassed.
Then she cleared her throat, began to cover my cock from top to bottom with soft kisses, which she did very skillfully, and spoke the words that every master loves to hear.
"I, Kedi, will be your slave, surrendering only to you, faithful, full of humility and obedience, obeying all your instructions and not contradicting. I want to learn from you and be teachable, to let my knowledge and ability be tested by you again and again. And I want to perfect myself and approach perfection, so that my training will be a credit to you and you can be proud of me. You are my master and I call you that, and I am your slave. I want to be your sex slave."
I've never been happier in my life…
… when I heard the words come out of her mouth. And this, although I had already taken the oath from several women.
I held out my hands to her and helped her stand. "You did very well, Kedi. I am already proud of you". Given the situation, I would have expected her to look serious, but she looked at me with bright eyes. "Will you take your oath now, my lord?"
"Not just yet, but I have a first order for you. Don't call me master all the time. Just call me by my name. I will tell you when I want you to say Lord to me". I took her face in my hands and kissed her tenderly. Then our tongues came into play and we kissed a little more passionately, but not wildly yet. The night was going to go on for a long time, and I wanted it to be special for Kedi. Just as it was for me, but I didn't know that yet. When our mouths separated, I carried her over to the bed in my arms, laying her down so that her legs were on the floor and she was lying on the bed with only her back, bottom and head.
»
Photos and Videos of Slave Kedi

I let my fingers slide from her creek navel to her breasts, caressing them gently, touching very lightly her nipples, which immediately straightened. Then I slid further to her neck, over her chin to her lips and then to her cheeks, which were slightly flushed. This young woman was clearly aroused. But it wasn't time to fuck her yet.
Now my lips and tongue followed the places where my hand and fingers had been before. I kissed everything that came my way. Her belly button, her tight firm belly, those two wonderful full breasts whose nipples stretched steeply towards my tongue. My mouth settled on hers and we almost melted together as our tongues met again. Meanwhile, my hands continued to caress her body, stroking the inside of her thighs and running very lightly over her mons veneris. Was that really wetness coming from her pussy I was feeling, or was it just sweaty hands?
The mutual oath – a slave contract
"Kedi, my beautiful pleasure slave. I will now swear to you, making me your master," I said softly to her. I knew this was an exciting moment for any new slave and wanted to take any nervousness away from her. But she didn't seem nervous at all, just very happy. "Yes, my lord – excuse me, Dirk, – do that. I've waited so long for this," she replied, beaming with joy.
So I started my kisses on her mouth again, moving over her breasts and stomach to her pubic area. Then I touched her mons veneris with my mouth for the first time and a little shiver ran down her spine. I placed a few more light kisses and she seemed to like it. So now I licked with my tongue along her cleft, which immediately opened a little and released some cervical mucus. I actually made the little virgin horny. I lapped up her juices from her virgin pussy with relish, sitting down on my knees, my head between her long, shapely legs. My lips kept kissing her young pussy as I said my vows.
"I, the Lord Dirk, do hereby highly and solemnly vow that I will take you, Kedi, as my slave. I will teach you and train you, challenge you and encourage you as you deserve and need. As your Lord, I will guard and protect you, reward and punish if need be. I am your master, and you, Kedi, are my slave. That's the way it's supposed to be."
It began my first night with Kedi. She was simply stunning and actually indescribable. I have never felt the riding of a young slave so intense and passionate, yet so familiar and intimate. We made love for at least six hours, but it could have been more or less, because during that time we lost track of time.
Trust is also the basis for slave Kedi
After I took my oath, I looked up at her for a moment and didn't believe what I saw. She was actually crying a little. But they were tears of joy flowing from her innocent blue eyes. "I'm so happy right now, Dirk," she sobbed lightly. I leaned over her and kissed her tears away. "Do you trust me, my beautiful Kedi?" "Yes, Dirk, I do." "Then trust me to make you much happier tonight," I said, kissing her forehead, the bridge of her nose, her eyes, her mouth, and kneeling between her legs again.
Lightly I pushed them a little further apart. Her virgin pussy was a wonderful sight for any man. Already slightly swollen by her rising horniness, the slit slightly open and giving off some pussy juice. And she smelled so good. My tongue licked lightly over her labia, circling them, each separately. Then I turned my attention to the inside of her labia and ran my tongue up and down, very carefully and slowly.
»
to the profile of slave Kedi

My beautiful Kedi began to moan slightly, encouraging me to get bolder. My fingers came into play and ran over her pair of lips, gently caressing. Then I placed my finger lengthwise in her slit and began to rub lightly. Now my little virgin secreted more and more liquid, so that my finger was finally all wet. Now it had come to the point where I couldn't go back. Very slowly I pushed my index finger into the pussy of my slave. She acknowledged it by pulling air up her nose and lifting her lower body slightly.
It was too late to stop now. And finally, it was her express will that I deflower her. So I slid my index finger back into the tight little cunt. I pushed it all the way in, slowly, until it wouldn't go any further. Then out again and in again. Always alternate. At a steady pace. My tongue kept licking her clit and her mons veneris as I did so. My little one seemed to like it, though, because her breathing got faster and her abdominal movements more and more intense.
I fucked the virgin pussy of my little willing slave girl
My index finger was now supported by my middle finger. Weren't two fingers in that wonderfully tight vagina too much? Finally, my tail should also find its place today. But no, I had forgotten that she had also already trained with vibrators and dildos! So I fucked her a little harder with my fingers, which was immediately met with even heavier breathing and more movement. So I was on the right track. Soon my fingers were performing a veritable dance of joy. Sometimes they advanced slowly, sometimes a little faster, but never brutally or humiliatingly. Sometimes they struck bolt upright, sometimes slightly curved. Then they paused in the sweet little virgin pussy and massaged her vaginal wall.
Which Kedi especially liked, because every time I did it felt like she was climbing one more rung on the ladder to climax. Always supported by my tireless tongue and lips, which incessantly kissed the pussy. I don't think I had ever devoted myself so intensely to a vagina before. And my sweet little virgin slave kept getting hornier and hornier. She tossed her head back and forth, rubbing her nipples, clawing her fingers of one hand into the bedspread while the other hand supported me as I caressed her cunt. I couldn't understand what she was saying because all that came out of her mouth were sounds like "aaaah, oohhhh, jaaaaahhha" and then only loud moans came from her lips.
My fingers finally found her clit, which was now very swollen. I took it between my fingers and massaged it. Lightly at first, then more and more violently. But again, I was very concerned for Kedi's welfare. This was her first fuck ever, after all. So I didn't press too hard on it. Finally, when the tip of my tongue licked her clit three times and my lips touched it, it burst out of my horny virgin. A veritable tsunami of orgasms came over her. She reared back, the air stayed out of her for a second, and then she screamed "Yes, yes, yes, I'm coming, I'm coming, I'm coming, I'm coming…"
Tension and excitement formed a horny double
Then she started breathing properly again, at an insane pace, as if she had just run 200 yards at a monkey's pace. The powerful orgasm made her young, tight body shake and she trembled all over. For a long time she had kept her horniness in check and now her climax was making its way with all its might into the brain and body of my young, little, horny virgin slave. This was her very first orgasm – and she had saved it for me. For me, her master. Can there be anything much more beautiful for a man?
Now was the right time to deflower her properly. I waited a while for her climax to subside, laying my beauty properly on the bed and me next to it. We kissed passionately and caressed each other. I was magnetized by her breasts and massaged them extensively, constantly twirling her nipples lightly, keeping her tension and arousal high.
In my little interruption to our wild smooch, I asked her, "Kedi, my wonderful slave, may I continue to pleasure you?"
"Yaaaaa, Dirk, keep going, please don't stop!" That's all I wanted to hear. She was really ready and willing to not only be deflowered, but really fucked.
I put all my skill and knowledge into this deflowering. I asked her to close her eyes and describe to me exactly what she was feeling.
First I placed my cock on her virgin labia and moved back and forth. Slow and gentle. Then I took the tip of my cock and drove it on her cleft from top to bottom and back again and again. I could feel my cock being lubed up by her pussy juice. Finally, I opened her cleft a little with my fingers and put the tip of my cock inside so I could go up and down her cleft. Now I penetrated her slowly and tenderly with my glans. What I succeeded very easily, because her pussy almost overflowed with horny juice and lubricated my glans and cock well. The moment I entered her, she took a deep breath.
I finally made my slave a woman
She knew now I would make the virgin Kedi my wife and my slave. Very slowly, I went deeper into her, about halfway down the length of my cock. Many men would have exhausted their potential by now, but I could still go on. I remained in this position now and only moved sideways to widen her fine little pussy a bit, then slowly penetrated her further. Until my penis was all the way inside her. Now, too, I paused and moved only sideways. All the time I had been kissing her tenderly and stroking her face, caressing her wonderful, full breasts with my other hand.
Now I pulled back again and pulled my cock almost all the way out until only my glans was visible. I repeated all this for a few minutes until I was sure that this tight little virgin pussy could take my big, thick, plump cock without damage. After all, some women had already capitulated to it.
Now I changed the way to fuck my blood young slave. I drove a third of the way in and out of them. This too with great care and tenderness. So I fucked her properly for the first time. Then I went back to sideways rocking motions, and after a while I added the second third of my tail. I was now fucking Kedi with two thirds of my bolt. And happily noticed that her breathing was getting faster and deeper. She was still describing to me how I was fucking her, albeit in a low, whispering voice.
But that voice was so honeyed. I would have done anything for my slave at that moment. And again I went into sideways rocking motions, my cock in the sweetest virgin slave pussy I could imagine. Again, I repeated this over and over for minutes, two-thirds of the way in and pulling my cock out of this little virgin wonder until only the glans was in her, pushing it back in and after a few fucks rocking sideways.
Kedi enjoyed the quick fuck and my pulsating cock
So I fucked my sweet Kedi for at least 30 minutes. But her arousal grew more and more rapidly and now my cock disappeared its entire length into her little pussy. Very slowly, of course. I was now fucking my slave with the full length and thickness of my penis. Slowly in and out again and again, interrupted by sideways rocking. As I did so, I sped up barely noticeably and finally fucked my horny little virgin at a moderate pace. And I was infinitely grateful that Kedi could enjoy my cock and her deflowering fuck so much.
She stopped whispering to me what she was feeling long ago. I heard only sentences from her like "Yes my Lord, fuck me deep", "Oh my goodness", "Ohjajaja, jaaaahaaaa, yes", "Let me be your slave", "Fuck your little slave", Fuck your little virgin", "Fuck me", "Fuck my virgin pussy", "Make me your horny slave" and other horny phrases, which almost made me forget that under me just lay an 18-year-old virgin, which I obviously just fucked the brains out.
She was breathing very heavily and could hardly get her breath properly. Soon she would experience her first cock orgasm. I fucked her even faster now. Not at breakneck speed, but as fast as you can fuck a woman you'd like to give the full glory of your cock. And this virgin really deserved it. To give her the best deflowering I was capable of. But I wanted to give her one more fuck before I left her to the waves of bliss. My cock plunged into her tight little horny pussy with moderate speed, then I slowly pulled it back out.
And I repeated this for minutes, whereby the intervals between pulling out and putting back in her pussy became shorter and shorter and I became faster and faster. When I fucked her faster than before, pleasuring her pussy for minutes, Kedi couldn't hold on any longer and the orgasm overcame her like an earthquake with such force that I myself was a bit scared. Her eyes twisted so that she squinted like she was doing ahegao, her whole wonderful youthful body trembling and quivering, she could only bring inarticulate words out of her mouth and moaned and screamed out her pleasure at the top of her voice.
Then her teeny little tight pussy, which had been virginal a few hours ago, tensed. Then my cock pumped like it was trying to squirt my cum right into her womb. Her orgasm lasted for minutes, and so did the spasm of her vaginal muscles. Only now had I realized that my little slave had been trying to tense her pussy the whole time, the way experienced women like to do. Was there actually anything my Kedi couldn't do?
Kedi was rewarded with the "Golden Stirrup" award
Then came the relaxation and she fell into a little faint completely unexpectedly. This gave me the opportunity to pull my cock out of her wet, tight pussy, because I didn't want to inseminate my virgin just yet. I was saving that for an even more awesome experience.
When Kedi regained consciousness, I lay beside her and caressed her taut, shapely body with my hands. We both smiled at each other in love. She took my face in both hands and kissed me slowly and deeply with her tongue, making me almost black with happiness. Was there anything this wonderful creature couldn't do to me?! I had fallen for her, even though she was my slave and I was her master.
"That was the most wonderful experience I've ever had. And an awesome birthday present at that. Just as I wished, my lord. Now I am your slave and you have made me very, very happy."
"Yes," I replied, smiling and knowing. "Now you are my slave and I am your master. But a lot more happened when we loved each other."
Her still innocent eyes looked at me wide. "You didn't just give me your virginity and experience your first orgasms. You came so hard that your pussy tightened, you had a vaginal spasm. Something like this only happens when the slave gives herself completely to her master and really only with slave girls who have been around a bit longer. This is highly regarded in society and is rewarded with the Golden Stirrup award. Plus, you went into a brief coma after that, which adds to your devotion. Actually, you're allowed to pierce both nipples and wear nipple piercings now. But I will not allow you to deface that beautiful body of yours with tattoos, piercings, or anything else."
"Anything you tell me to do, I will follow, my lord," Kedi said happily. "Oh yes, you may now call me master instead of lord. I don't insist, though."
The scent of the freshly fucked slave beguiled me
"May I call you my beloved master or just beloved?" "But of course, my beloved, my beloved slave," I replied with a smile. And that wasn't even a lie. I had fallen in love with this young little horny slave girl.
Her sweaty young body signaled to me that my sweet young slave was still horny, willing and ready to give herself completely to me as we kissed and our hands caressed each other's bodies.
"Did you enjoy it when I spoiled you with my tongue?" "Yes, my love, very much so." "Then close your eyes and enjoy it again" She closed her eyes obediently as I had told her to, turned on her back and relaxed a little.
Again I let my tongue and lips glide over her mouth, neck, those wonderfully plump yet firm breasts with the delightfully stiff nipples, her belly, her navel, all the way to her vagina. I sucked the scent of her new, young womanhood deep into my lungs.
»
Videos and photos of slave Kedi

Never before has the scent of a woman who has just been fucked so beguiled me as with this one. My tongue licked the inside of her labia and my little slave gained new horniness faster than I expected. Then I pushed my tongue as deep as I could into her soft pleasure hole, still dripping with the nectar of passion, and let it run circles. Left and right around, then again from top to bottom and vice versa.
My mouth was stuck to her labia as I did this, so I was very deep inside her. At that moment, I wished I had the tongue of Mick Jagger or Gene Simmons. I wanted to be inside her as deep as possible and give her the highest pleasure. Which I quickly succeeded in doing, because again she let out light sighs and her pelvis began to tremble. We held hands and I could tell a new orgasm was about to take hold of her. I fucked her now on the most violent with my tongue. Again and again, deeper and deeper, faster and faster I pushed into her horny, now again wet pussy.
"Yaaa, yaaa, yaaaajaaa, yaaaaaaa…. aaaaahhhhhh," I heard my sweetie moan. Her torso reared up and a third tsunami-wave of orgasm coursed through her young slavegirl body. Again, it took quite a while for the twitching to subside and for her to catch her breath.
"My lord, my master, my lover, what wonderful things are you doing to me?" she whispered in my ear as we kissed.
"I'll make you my slave and show you how horny it can be when we make love," was my reply. "That's the way I've always wanted it, my love." Then we kissed again tenderly, I took her in my arms and we fell asleep cuddled together, completely exhausted but also completely satisfied.
This woman liked sex at any time of the day
The next morning it was Kedi who woke up first. I awoke to her hand stroking my balls and cock.
"Good morning, my love. Aren't you going to give your new slave the first morning fuck of her new life?" she whispered hornily in my ear. Until now I thought only men were horny for morning sex, to my Kedi this was probably true. And I wasn't sad about it.
"What my slave wishes shall come true. I was ready to give it to my young, cock-hungry slave girl right then and there. But also here I had made the calculation without Kedi. Her head, which had just been lying next to mine, disappeared under the covers. She kissed me on the chest and moved her mouth further down until her lips touched my cock. She covered the whole length of him with soft kisses. Then her tongue licked up and down the trunk. When her mouth finally clamped down over my glans, I was finally awake.
She actually blew my now stiff cock as expertly as if she had done nothing but give blowjob after blowjob for years. Her training with the dildos had really paid off. While I was just lying there enjoying my morning massage, my slave girl put on a real blowing concert. She fluted like she was playing a clarinet when she wet my cock with her lips. She blew her trumpet when she took him, a little more than just the glans, into her mouth and sucked on it. And she played the tuba when she put my thick cock in her mouth as deep as she could. By now I had thrown back the covers to watch my slave play. It was just too good to watch my Kedi go about her morning duties.
Kedi moaned while making her pelvis gyrate
"I want to fuck you, Kedi," I snapped. "I want you to fuck me too, my lover," she replied. And finished her skillful blowjob attack on my cock. Now she sat down on my lap. took three fingers in her mouth, wet them properly and started rubbing her teenage cleft. Quickly one finger disappeared into her pussy, followed shortly by a second. She actually jerked off her horny pussy in front of me. And still managed to smile at me extremely sweet, but also totally horny and provocative. Now she lifted her pelvis, took my cock in her hand and directed it to her horny pussy.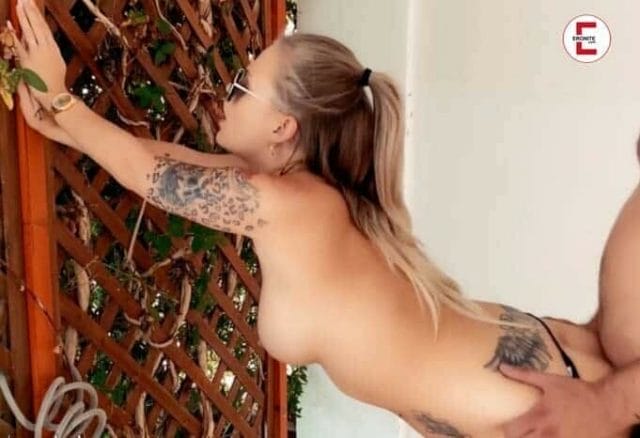 Slowly she let my love stick slide into her wet pleasure hole. Slowly, until I was all the way inside her. She remained motionless for a moment, getting used to my cock, which was deep in her pussy. Then she began to lightly gyrate her pelvis. Apparently she had memorized it from yesterday and enjoyed it very much. Very soon after that I heard the first slight moaning sounds coming from her mouth. Her gushing pelvis was now cycling back and forth. She wanted more and took what she needed from me. She now stood on her feet remained in a squatting position. Kedi kept bobbing her pelvis up and down. She drove herself into my hard-on again and again until it stopped.
With lust her tender cheeks glowed
Now she was panting and moaning rather heavily. "Your cock is so gorgeous and you fuck me so wonderfully, Dirk!" I could only grin blissfully, because actually my slave was fucking me, her master. And I enjoyed it. I held her hands to help her not lose her balance. I enjoyed the sight of her full, bouncing breasts. Of her sweet face, which was already glistening slightly in the face of her efforts. I enjoyed the way her cheeks glowed and she kept throwing her head back in sheer horniness and moaning loudly. "Yeah, awesome, awesome, that's so awesome, uhhhhuuuu." I was sure she'd be here any minute.
»
Private Sex Movies Of Slave Kedi

I fucked my new young horny slave in my bed in the morning. I had fallen in love with her, and she had fallen in love with me, I knew that. The day couldn't get much better. It was just as awesome as the night before. Only this time, I wanted to get to the shot too. So I made a few deep, quick fucking motions into her pussy as well. I fucked her like that for only about two minutes. Then my morning horny, sweet slave slumped on top of me and a violent orgasm jolted through her.
As I put my arms around her to hold her tight, her pussy contracted again and built up great pressure on my strap. I discharged myself with a load into her young horny slave pussy, giving her a wonderful and great finish as well, when she felt my warm cum in her pussy. It was the first time we had come together.
What a great start to the day!
Even after that, we lay together, our bodies happily entwined. "Come on, beautiful. Let's get up, I want to introduce you to the others." "Just as you command me," she smiled . I was about to find out what that smile meant. We stepped into the shower together. As the warm stream of water hit our bodies, she took the shower gel and soaped me from top to bottom. Without forgetting my sack, balls and cock, which was already getting stiff again from her touches. Then she took the shower and rinsed me off. What followed took me completely by surprise. She knelt down, took my cock, which was already stiff again, in her hands and jerked him skillfully.
I probably don't need to say that he was immediately back in front of her like a one and hard as iron. After a while she opened her mouth and swallowed my fuckbolt as deep as she could. This innocent young little slave girl sucked my cock like a milking machine. She had put her arms behind her back, but now she took her two hands, which slid back and forth along my thick trunk. I realized that Kedi had truly spent years working towards serving me in the best way possible. To this I could only guess that she watched a lot of porn to learn all the practices with the help of her dildos and vibrators. I loved her all the more for it.
Still I did not want to cum in slave Kedi's mouth
After a short time I felt a violent throbbing in my cock. I pulled it out of her mouth. Squirting into her mouth now didn't seem right, but I could read Kedi's disappointment in it on her pretty face. It was the first time I ever denied her anything. But that too is part of being a slave. After sliding her hands back and forth two or three times to jerk my penis some more, my cum shot out of me and landed on her breasts. I had good aim. Because I wanted to see if Kedi might rub my cum all over her breasts if I wasn't already squirting in her mouth or face. I noticed with half-closed eyes that she was doing exactly what I wished. She actually rubbed her breasts with my cum. What a horny mad woman.
Shortly after I could think straight again, my sweetie wanted to lick my cock clean. But I bent over, lifted her chin a little and said: "No, not today, my beloved, young, little, horny slave. Not today. Somewhat disappointed at my refusal, she stood up, gave me a deep French kiss and began again to soap and rinse me. I turned her back to me and did the same to her. I was especially careful with her full, horny, magnificent breasts because I didn't want her walking around all day with my cum all over her boobs.
But as I've come to know my horny kedi so far, she would have enjoyed it if everyone could see that she had just been cummed on by her master. As I soaped and massaged her breasts, I felt her hard nipples against my palms. So she was still horny, or already horny again.
We dried off, got dressed, brushed our teeth and went down to the kitchen together where the other maids and slave girls were already waiting for us and then we had breakfast together. I was very pleased to see that Kedi was immediately accepted by everyone else – and they all welcomed her into the fold.
After this night and the morning I am very sure: We both will have a lot of fun together. You as my new slave, surrendering to me completely. And me as her master, teaching her everything a slave needs to know and be able to do – and then some.