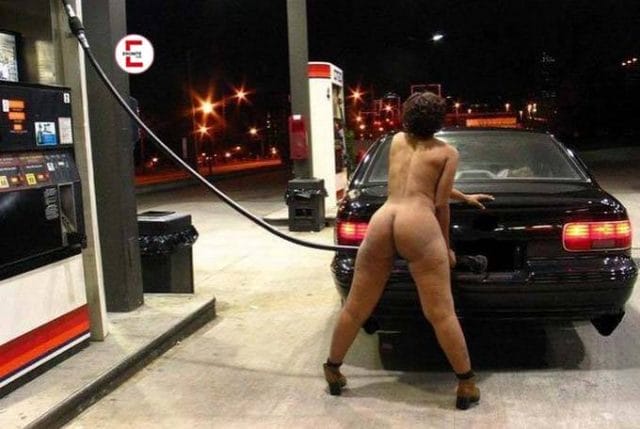 BDSM becomes more and more popular
It is far more than just a way to enrich your sex life. For many followers, it becomes a way of life. The game with the opposites pleasure and pain, dominance and humiliation is not limited to the short time during sex, but also determines everyday life. In this context, it can happen that a man or a woman shows up naked at the gas station.
What's the deal with naked refueling?
If someone shows up naked at the gas station, it may be a lost bet, for example. Much more often, however, there is a punishment behind it in BDSM. If you have never dealt with the practice, you automatically think of corporal punishment like whipping, bondage (bondage is called bondage after all) or gagging and blindfolding when you think of punishment in BDSM.
There are plenty of instruments for this in the scene. Many of these are expensive custom-made items like St. Andrew's crosses or slave cages. However, corporal punishment usually only excites beginners. For advanced BDSM, it is more of a side issue. Experienced doms think up smart punishments for their disobedient subs, where they are psychologically humiliated and pushed to their limits. This may include showing up naked at the gas station.
What makes naked at the gas station such a good punishment?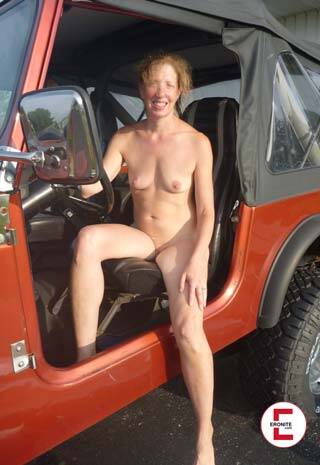 Because it's not common in everyday life to show up naked at the gas station. With few exceptions, society does not accept people walking around naked in public. Naked refuelling is just as taboo as having sex in public or going to the toilet for all to see. When a Dom demands that his sub pull up naked at the gas station and fill up or buy something, he knows he is putting her under extreme pressure.
The psychological discomfort caused by this punishment is much greater than even severe corporal punishment could cause. The sub is under a lot of stress because of this task. On the one hand, it is part of the sub's duties to obey the master and carry out all his orders. On the other hand, everything in her or him bristles at the thought of showing up naked at the gas station. As said in the beginning, it is considered a taboo to walk around naked in public.
Another aggravating factor when filling up naked is that most petrol stations nowadays are equipped with surveillance cameras. There is a good chance that the matter will be filmed and possibly reported to the police. If the sub is unlucky and there is no interesting news at the moment, the story might even appear in the local news (Albeit with privacy preserved).
What are the legal consequences of showing up naked at the gas station?
Appearing nude in public is an application offence. In the legal sense, it is not a criminal offence, but a misdemeanour. It is normally only prosecuted on application. This means a victim must feel violated or offended by this punishment in BDSM and file a complaint. Aggravated prosecution is possible if a person shows himself naked in front of children. The law usually punishes the "crime" of appearing naked at a gas station with a fine.
Are there variations in naked refueling?
Oh, yes, that's quite possible. Since it is a mental punishment, it depends solely on the imagination of the Dom. Depending on his mood, he can aggravate or also mitigate the punishment in BDSM. If he wants to make it easy for the sub, he can, for example, allow her to drive up in the car and not have to leave the vehicle. If he wants to make the punishment especially difficult for her, he can demand that she not only pull up naked at the gas station and fill up, but get out and pay at the store or even buy something. The humiliation of this punishment in BDSM is of course much greater than if she is simply allowed to sit in the car.
A particularly sadistic Dom may even choose the gas station and the time of day for the psychological torture and set a time when experience shows that it is always busy there, for example on Friday afternoon. Usually the Dom will unobtrusively accompany his sub in a second vehicle, filming in the background as she emerges naked at the gas station. He might even take the game further and threaten to post the video online. Without their consent, however, this is punishable by law because it violates their rights to their own image.
Naked at the gas station – the ultimate proof of obedience
When a slave complies with the order of his Domina and follows the order to fill up naked, he proves that he has what it takes to be a real slave. With this action he overcomes his inner resistance and shows that he is willing to obey the orders of his mistress, even if they basically contradict his inner conviction. That is exactly the attitude that makes a good slave. Of course, with a female sub, the humiliation is even greater.
Are there other penalties?
Of course, it depends only on the imagination of the master. For example, he might force his sub to stand on the street dressed like a hooker and offer herself for money. Another option would be to send her to work wearing an extremely short miniskirt, but no panties. These punishments also constitute humiliation in public.