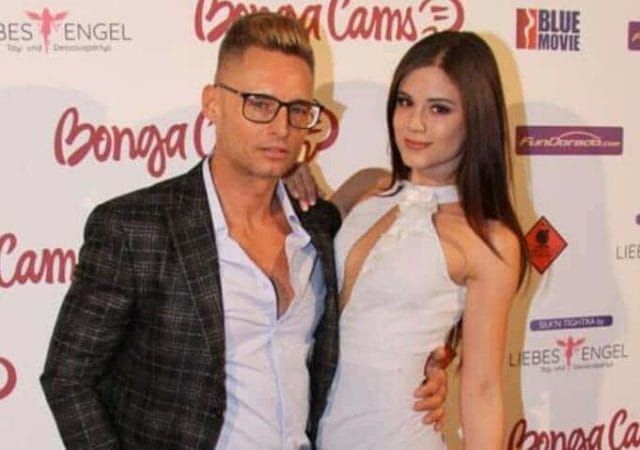 Porn couple from Austria wins Venus Awards
Couples in the porn industry who are also romantically involved in real life often make the best porn movies. This is simply because the chemistry between the two is right and the erotic tension does not need to be played. Little Caprice and Marcello Bravo, an Austrian porn couple, each won top honors at this year's Venus Awards.
---
Eronite empfiehlt dir diese XXX Videos, Livecams & privaten Kontakte:
---
It all started for the Austrian porn couple at an erotic fair
For an Austrian porn couple, the Venus Awards Gala in Berlin is comparable to the Oscars. That's where they met a few years ago. Marcello is not a man of long words and immediately said that he wanted to bed with the attractive woman. But he had to wait a few more weeks. But then things really took off. Now they have been married for several years. Strictly speaking, they are not an Austrian porn couple. Only he is Austrian, she was born in Brno, which as you know is in the Czech Republic.
At Venus the couple celebrated their greatest triumph
The two met on Venus, they also had their greatest professional success there. Both were awarded the Venus Award for Best Porn Actress International and Best Porn Actor International, respectively. They won this prize for the second time. Besides that, they also got the award for an erotic advertising campaign. Here Little Caprice was the performer.
Venus is a trade fair, which means that trade visitors and interested erotic enthusiasts can find out about the latest developments in the erotic industry. Little Caprice and Marcello Bravo are not only an Austrian porn couple, they also have a joint production company Little Caprice Dreams. These presented themselves there at a stand. But not only Little Caprice and Marcello Bravo were represented, but also some of their performers: AlexisCrystal, Leanne Lace, Katy Rose and Nici Dee are surely known to many a porn lover.
Little Caprice and Marcello Bravo – Austrian porn couple riding the wave of success
Even without winning the Venus Award twice, things have been going very well for the Austrian porn couple in recent years. In an interview Little Caprice expressed her enthusiasm about the Venus in Berlin. She had a great booth with pretty girls.
But the Austrian erotic couple has also been spoiled by success in the last three years. They won several awards for their website and the couple has also won an award for the best sex scene. They were even nominated seven times for the AVN 2019 . This is a film award of the erotic industry, which is awarded once a year in Las Vegas.
Little Caprice and Marcello Bravo, an Austrian porn couple, are very active in front of the camera. In total, they made more than 1,000 films. Not all together, because they also work with other performers. Not only do they shoot the films, but they also do the post-production themselves. Not only does this save money, but it allows the two performers to retain creative control over their work.
What's next?
Now the porn fan is wondering what the couple from Austria is planning next. If you want to stay up to date, check Little Caprice's page regularly. Currently there is a lesbian love scene there with Melena Maria Rya. For Melena, it's her first lesbian scene. Little Caprice praised the actress for her naturalness. She stated in an interview that she was proud to be the first woman Melena had sex with.