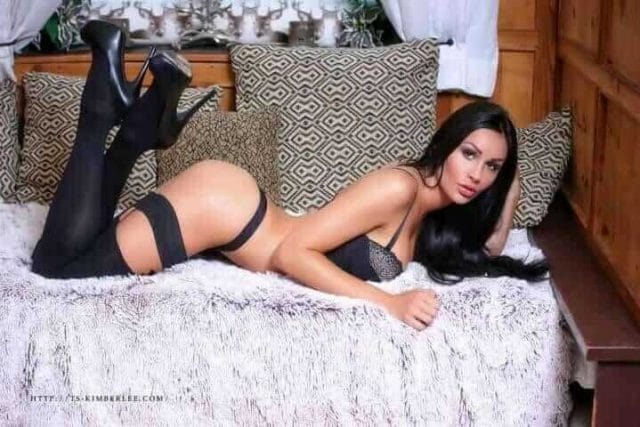 TS Kimber Lee's birthday ♬♩
Transsexual Twen mixes up the scene
On 20 October TS Kimber Lee celebrates her birthday! From the whole Team of the Eronite the very best congratulations and all the best for your day of honour, dear
Kimber Lee
♡
---
Eronite empfiehlt dir diese XXX Videos, Livecams & privaten Kontakte:
---
TS KimberLee – the sex bomb before the Lord. All men want her and all women want one just like her. Where Kimber Lee appears, the heads turn around after her. She is a feast for the eyes, which you simply have to look at and desire. Whether male or female. And there is something in such a racy transwoman for everyone: a mighty 20-cm tail as well as big, firm tits.
"Men must buy us things," she once said to us in an interview. And when Kimber Lee says it that way, she means it. She is a little luxury brat, Chanel and Louis Vuitton her celebrated heroes. Hardly a month passes in which the busty beauty does not afford a new bag. Luxury is a must and if men pay for it – even better! She can definitely score points with her feminine look. She looks like a woman, she moves like a woman, she thinks like a woman, but still she knows how to deal with her thick beating just like a grown man. This is what makes Kimber Lee so interesting for women. Also many erotic amateurs would like to make one or the other sex film with the transsexual porn actress.
♬♩ Happy birthday, Kimber Lee, happy birthday to you…
Kimber Lee originally comes from a small Bavarian village, for a long time she lived there, but in the meantime she is more likely to be found in larger cities, and so Linz and Vienna have become her preferred domiciles. Kimber Lee is now shooting internationally, especially in the USA. German shemales are particularly in demand here!
We are proud that Kimber Lee was exclusively under contract with us for two years and that we were allowed to shoot one or the other porn movie with her (for example Bayernfotzen or Transsexual Porno-Kim on Tour).
When other women fetch their husbands beer while he is watching on TV how eleven men are running towards the corner flag, Kimber Lee prefers to sit in front of her guy and suck the sack cream out of his balls. Cock blowing is her speciality, these full lips are simply made for a hot blow job of the extra class! And sure, such a horny fuck in the halftime break is not to be scoffed at. The best way to get Kimber Lee – what a miracle – is to get fucked in the ass. She goes off like a rocket and her fat 20-cm hammer becomes hard like a massive, thick iron bar. The breasts firm and crunchy, really nice and big to knead them through, twirl at the nipples and jerk off on them.
The Kimber Lee birthday today – all the best!
Whereby Kimber Lee is not averse to a well-groomed titty fuck, because she can suck the tip of her cock in her mouth and spoil his acorn with her tongue. No wonder the guy wants to splash his load in her face. And the best part: Kimber Lee allows it!
Even more porn photos and videos of the pretty transwoman is here:
TS Kimber Lee