Tight tini intimate
We were just able to catch Tight-Tini before she was shooting her next clip. The petite blonde with the dream body reveals us here her dream of the "Mafia boss":
---
Eronite empfiehlt dir diese XXX Videos, Livecams & privaten Kontakte:
---
Eronite: Tini, thank you very much for answering our readers' questions. How old are you and where are you from?
Tight-Tini: First of all, I would like to thank you for inviting me to the interview. I am 24 years young and live in the beautiful Hanseatic city of Hamburg. But I saw the light of day and grew up in Mecklenburg-Vorpommern.
Eronite: Are you a full-time porn actress or do you have a civilian job on the side?
Tight-Tini: My main activity for the last six months or so has been live camming as well as trade shows and photo shoots. I still worked in a pharmacy in Lübeck until September last year and did that with the livecam on the side, but when they found out, I unfortunately had to quit that job. I do filming more as a sideline, but with all the more passion!
Eronite: When we see you in your films, you are quite taboo. Is there anything you're dying to try?
Tight-Tini: There's one wish I've had since I was little – and that's sex in a movie theater, preferably with a camera, but unfortunately that hasn't worked out yet.
Eronite: What is your opinion about anal sex, gangbang, bukkake, sadomasochism?
Tight-Tini: Anal sex I do so far only privately, but will also soon follow in a video. The other stuff isn't for me, either in private or in a video. I want to take full care of the man and spoil him – and that is unfortunately not possible with these things in my opinion.
Eronite: What makes a real porn star for you?
Tight-Tini: It's hard to say what a real porn star is. I think that's ultimately defined by name recognition, and that's a long long way down the road.
Tight-Tini is very close to her fans
Eronite: You already have a big fan base. How proud does that make you in terms of recognition of your work?
Tight-Tini: That makes me proud myself, now after six months to have already inspired so many people that they want to be constantly up to date on my projects and support me in many things. Many thanks to each and every one of you! I am happy about every photo and autograph request from you, so don't be shy. ;-)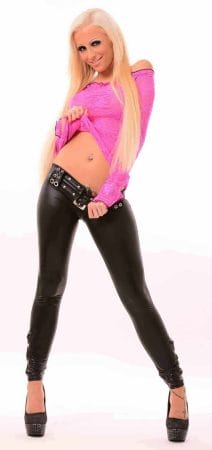 Eronite: Where can people meet you? Are you, for example, a regular guest at the Berlin erotic fair "Venus"?
Tight-Tini: I'm at a lot of car shows this year with my booth giving away posters and little gimmicks. This is made possible by Wheelscompany, which takes me to the biggest fairs. Further on I will probably be on Venus and some other things will follow.
Eronite: What does the male world say about your job when you meet them on a private level?
Tight-Tini: Funnily enough, most men don't have a problem with it, but rather find it exciting. I think the days of having a big problem with that are thankfully over.
Eronite: If a film production gave you a completely free hand in the realization of a porn film, what would you shoot and in which role would you see yourself?
Tight-Tini: I'd like to do more German parodies and recreate big movies or series as porn. How about "Breaking Bad" as porn, and then I'm the mafia boss ;)
Eronite: You are one of the better known performers on the scene. Do you ever get recognized on the street? Or do you only see from the lustful looks of the men that they know you, but prefer not to talk to you?
Tight-Tini: Now and then it happens that I am recognized on the street, but strangely only the women then speak to me directly and ask for a photo or an autograph card. The men then always write me a message later. So dear men, dare, I do not bite ;)
Eronite: Can your fans actually see you in front of the webcam or so far only in the Fim?
Tight-Tini: No, I can also be seen in front of the webcam, and even very very often, actually almost daily on all known sites.
Eronite: Short and thick or long and thin? What must he be like?
Tight-Tini: I'm actually relatively flexible, because it's more about the technique. Since most women like me also tend to come clitorally, the length is totally irrelevant.
Eronite: On most shoots at Eronite, the actors and actresses are allowed to have a say in the script and contribute their own ideas and especially their preferences. Can you imagine playing in an Eronite movie one day?
Tight-Tini: I haven't thought about shooting for a label yet, but I'll think about it and let you know right away :)
Thank you for the interview, Tini! And maybe one day we'll see you in an Eronite movie – we'll keep our readers posted here at eronite.com!
Tight-Tini – Tightness can be so pleasant
She is blonde, sugar sweet and highly erotic. The look in the eyes and the smile remind of Britney Spears. Tight-Tini is the name of the sexy Hamburg girl with the sun-tanned skin and the partially tattooed body. The erotic full professional is already active for over ten years as Amarteurgirl and brings the men in rows around the mind. No wonder, with this sexy appearance.
Tight-Tini or simply Tini from Hamburg
The pretty blonde with the bright blue eyes is an eye-catcher. With a height of sweet 160 cm and a weight of just under 50 kilograms, the name Tight-Tini is chosen spot on. The sexy North German has a decidedly pretty face and a very erotic figure. Her bust size of 75D has already made many a man melt away. Here, everything sits exactly where it should. Bust, butt, thighs, everything is present in exactly the right proportions. The blonde North German calls herself "your cum help". Anyone who has seen them will not doubt this statement for a second.
Busy blonde bee
Not only that Tight-Tini can be seen constantly in front of her livecam. Every day she is in front of her camera from 13:00 to 18:00. After a short break, it continues from 21:00 to 1:00 at night. In addition, there are now over 300 videos of the horny blonde. A colorful palette of horniness, as she describes it herself. And this description hits the nail on the head.
If you scroll through her videos, you will encounter a very wide spectrum of eroticism. Whether it's dirty talk, oral, anal or masturbation, there's nothing that Tight-Tini doesn't have. Also followers of various fetishes get their money's worth here. Tight-Tini has a decidedly interesting repertoire of high heels, patent, leather and nylon stockings. So if you're interested in a wicked role-playing game, preferably paired with a foot fetish, you're in good hands here.
Pornstar to touch
Not only that Tight-Tini welcomes her fans daily in front of the livecam. With her there is also the possibility to actively participate in the horny happening yourself. User rotation is the magic word here. Who wants, can step namely even with amateur Tight-Tini in front of the camera and give free rein to his erotic fantasies. Mutual sympathy provided. Many things that fans have only dreamed about are now within reach.
In fact, it's just a single mouse click away. Interested parties, and there should be many in the case of the pretty Hamburg woman, simply visit her in front of her sexy livecam. Now it's time to chat, flirt and exchange ideas. Maybe a script for the next video of the tight Tini is already created at this point. With the fan as the second main character.
Like, if you want to give me a pat on the butt
This sentence can be found several times on her profile. And it is also at the same time a statement that suggests the sexual preferences of the horny blonde. How submissive the tight Tini really is, it is best to ask her yourself in sex chat. Since she is into role-playing games, as described above, the submissive role should be anything but foreign to her. A well-equipped wardrobe in the form of lacquer and leather is also present in the pretty Hamburg.
So who would not like to comply with the request and give the blonde brat a slap or two? Of course, to answer this question, you have to see her gorgeous butt once. And the sight of the sugar-sweet blonde is worth it. This is an absolute splendor ass. The tattoos on the left side of her body extend over her buttock, on which the blossom of a flower can be seen. A sight that invites you to linger.
You just want to sit back, look at this butt in peace and wonder what to do with it now. Spanking? Flagellation? Anal? Rimming? At the sight of this butt, the inclined observer will become quite creative with his fantasies. No one who has seen or even been allowed to touch this perfectly proportioned body part will disagree here.
So the call above will definitely be acknowledged by most of her fans with a big like for Camgirl Tight-Tini. Just like the writer of this article.